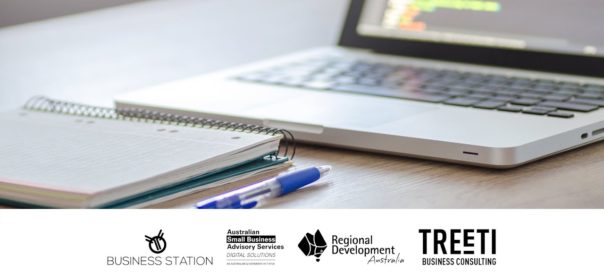 050620 – ASBAS (COVID-19) Online Business Forum
Digital Advertising for Small Businesses
Throughout COVID-19, businesses have been forced to switch to online options. More consumers than ever are shopping online. So how can you take this shift in behaviour and turn it into an opportunity for your business? Have you considered advertising your business through paid digital marketing?
For small business owners who may be new to the online world of Facebook and Google, spending money on these channels through advertising campaigns may be daunting. Without the skills and experience with using these platforms, it can be hard to know where to start!
There is no one set answer for which platforms provide the best opportunity for advertising, and there are no set rules on what will work for your business.
In this online business forum, we will be joined by a panel of digital advertising specialists to discuss the basics of advertising your business online. How to get started, what to look out for, how to utilise your database, tips and tricks and how to make sure your ad spend isn't wasted on fraudulent clicks!
Join us as we unpack digital advertising and learn how you can get started on these platforms.
Have questions you want answered? Send an email prior to the session to asbas@businessstation.com.au. You will also be able to ask live questions to the panel.
This COVID-19 Online Business Forum is brought to you by Business Station and AusIndustry under the ASBAS Digital Solutions Program.
ABOUT THE PANELLISTS
Kasia McNaught
Kasia McNaught is a passionate digital marketer and communications consultant with over 14 years of experience working with businesses across digital, traditional and outdoor media.
In July 2016, Kasia founded McNaught Media, a boutique digital marketing consultancy specialising in social media management and content creation. She manages client campaigns and provides digital literacy training to business owners through individual and group coaching.
Kerrie Saverin
Kerrie Saverin is the Co-Founder of Altitude Business Solutions. She is an expert at showing business owners how to use technology to grow their business and save time and money through automation. Kerrie has owned and run multiple businesses over the last 20 years, winning international awards for growth and marketing. She enjoys assisting business owners introduce automation to their business so they can gain time back for themselves
Dante St James
Dante is Head of Digital at Treeti Business Consulting, and founder of digital agency, Clickstarter. With extensive media, marketing and information technology experience, Dante is now one of just six accredited Facebook Community Trainers in Australia and one of just three certified Facebook Digital Marketing Associates.
Also a Google Digital Springboard program partner and holder of some 82 individual technology certifications, he is a highly capable advisor across Digital Marketing, Social Media, CRM systems, workflow management, GSuite and office productivity tools, desktop security, Websites, Search Engine Optimisation (SEO), eCommerce, Instant Communication and leveraging technology for small businesses of all types.
Hannah Wallace
Hannah Wallace is the Marketing Director for digital ad fraud prevention specialist, TrafficGuard. Launched in 2018, TrafficGuard's mission is to drive trust and transparency in the digital advertising ecosystem. TrafficGuard works with advertisers of all sizes to ensure that every dollar they invest in digital advertising goes towards genuine advertising engagement, not ad fraud.