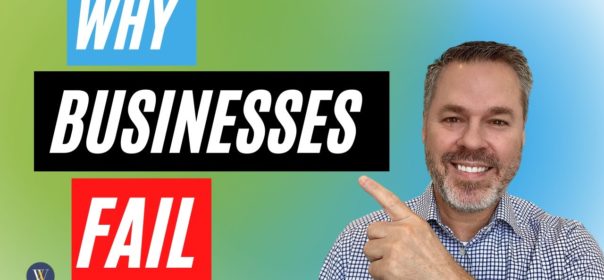 10 Top Reasons Why Small Businesses Fail – Series on Business Management
10 Top Reasons Why Small Businesses Fail – Series on Business Management
Part 1 in our video series on Business Management. We're focusing on the Top Reasons Why Small Businesses Failed followed by videos on How to overcome these top reasons.
The statistics are shocking on the number of small businesses that fail in their first year. Sadly only 20% of all new start-ups don't make it past their first year. 50% close their doors for good within 5 years.
Amazingly, when we look at the Top Reasons why small businesses fail, there is a pattern of mistakes they have in common.
Video Timestamps:
00:00 Introduction
03:25 Why Small Businesses Fail
05:47 Successful Businesses Build Great Teams
07:13 Financing Problems
08:35 Failure to Market Online
09:53 Poorly Priced Product/Service
12:33 Inadequate Management
14:53 Ineffective Business Planning
15:39 Failing to Track Marketing Efforts
17:19 Not Understanding Your Ideal Client
18:23 Failing to Listen to Your Customers
19:04 Failing at Inventory Management
20:09 Lack of Sales
If you have any further questions about this video's topic or any financial planning questions in general, I encourage you to schedule your confidential meeting with me.  You can schedule your meeting here: calendly.com/aaronwealthmanagement
➤ 𝐒𝐔𝐁𝐒𝐂𝐑𝐈𝐁𝐄 to our Channel here: http://bit.ly/2lPUJjA​​​
➤ Business Inquiries:
☎️ 1-866-623-8368
📥 aaronwealthmanagement@gmail.com
🌐 https://aaronwealthmanagement.com/​​​
📅 calendly.com/aaronwealthmanagement
⚡ Connect with David Aaron on Social Media
Facebook: https://www.facebook.com/aaronwealthmanagement
LinkedIn: https://www.linkedin.com/in/aaronwealthmanagement/
Instagram: https://www.instagram.com/bizwealthadvisor/
Pinterest: https://www.pinterest.ca/aaronwealthmanagement/
Toronto | Mississauga | Oakville | Burlington | Brampton | Woodbridge | Vaughan | Richmond Hill | Newmarket | Thornhill | North York | GTA | Etobicoke | Markham| Aurora | King City