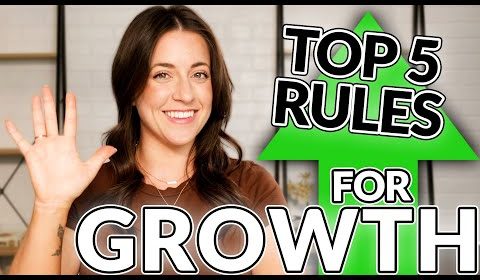 5 Rules That Grew Our Business From $0 to Top 1%
To learn the latest social media strategies and business systems to get more clients for your real estate biz, subscribe here: https://bit.ly/3vYLfBC
✅ I teach real estate agents how to market themselves on and off social media to gain an unfair share of attention and attract their dream clients. Book a 1:1 Coaching Consultation: https://bit.ly/3Ab93Xu
Video Web Page Here: https://bit.ly/3QY15Hd
Today, we are looking past the strategy and instead getting into the mindset of a Top Producing real estate agent. Tune in to hear the 5 Rules that took me from clueless newbie to confidently scaling a multiple 6-figure attraction based real estate business. I share how I deal with failure and setbacks, what I think about the real estate market, and how I learned how to stand out from my competition.
🚨 Instant Download: 12 Rules For The Attraction-Based Agent: https://bit.ly/3QEDCL4
RESOURCES 👇
__________
➡️ FREE TRAINING: Have you been thinking of using social media to grow your business but you're not sure where to start and you're scared of wasting time on the wrong steps? Let me be your guide! I'll show you the right steps on how to connect with more buyers and sellers on social media without paying for ads, and exactly how to convert them into forever clients. Sign up for the Free Training here: https://bit.ly/3Ab7N6T
➡️ WANT TO COACH WITH STEFANIE? Let's triple your business! Stefanie is accepting applications to the Market Authority Academy now to work with us in a small group. Serious inquiries only pls. Check out the details and book a call here: https://bit.ly/3Ab93Xu
✅Free CRM Guide: https://bit.ly/3kvLgJG
MY PREFERRED RESOURCES FOR OUR TOP 1% REAL ESTATE TEAM👇
Canva – https://partner.canva.com/c/2779009/647168/10068
PopBy – https://popbyco.com/?ref=187 ( LUGO25 for 5% off their first purchase)
SendOut Cards – https://www.SendOutCards.com/u/brycelugo
Reva – https://www.thinkreva.com/marketauthorityacademy/
Coffee&Contracts – https://bit.ly/3OnTiBh (MAA15 for $15 off of their first charge)
Farming Mailers – Email me at Hello@StefanieLugo.com to learn how Corefact can help you become the go-to agent in your neighborhood
Harold and Homes – http://haroldhome.refr.cc/stefanie ($15 off if you use this link)
🙋🏻‍♀️ CONNECT WITH STEFANIE
Follow me on Instagram: www.Instagram.com/BryceandStefanie
Facebook: www.Facebook.com/officialstefanielugo
Youtube: https://bit.ly/3vYLfBC
Blog: www.TheLugos.com Website: https://www.stefanielugo.com/
🎙LISTEN TO THE PODCAST iTunes: https://apple.co/3u0jo2t
Spotify: https://spoti.fi/3lQkpak
💁🏻‍♀️ ABOUT STEFANIE LUGO: Stefanie Lugo, along with her husband, Bryce, is a top-producing REALTOR® with My Home Group Real Estate in Scottsdale, AZ. She and her "small but mighty" team have redefined real estate marketing in 2020 and beyond, and have helped hundreds of families buy and sell while they're at it.
Through her proven strategies for a 6-figure business, Stefanie is obsessed with helping real estate agents become the go-to authority in their markets. These methods have helped thousands of real estate agents across the country create game-changing results in their businesses!
Stefanie's unique marketing strategies create automated lead generation for your business while building your brand and influence in your area. This means a lifetime return of investment without spending a dime on advertising.