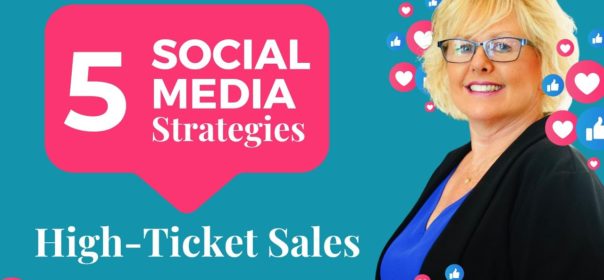 5 Social Media Strategies For High Ticket Sales
If you are looking for Social Media Strategies for your business and want to make Ultra high ticket sales, I have the exact 5 things you want to make right.
Watch these 5 Social Media Strategies For High Ticket Sales and boost your revenue today!
Grab the Masterclass @ www.expertinyou.us – See how my clients are selling ultra-high-end clients & programs for $15k, $30k, $50k, and $100k + by using their expertise, knowledge, experience, and skills to help others while creating a fantastic lifestyle.
Ann Carden is considered a TOP Business Growth Expert and Strategic Marketing and Sales Coach for Professional Entrepreneurs, Coaches, and Consultants who want to sell high-value products and services to build an expert consulting or coaching business to six and seven-figures, using their expertise, experience, knowledge, and skills. Her 5-Step Expert In You Process is the fast-track process for success.
Ann has more than forty years of experience in business, marketing, and sales, with over thirty years as an entrepreneur and business owner. She has founded six successful businesses and has sold five of them.
She has coached and consulted hundreds of consultants, coaches, and entrepreneurs to build higher business success. She is a 3x Author & #1 International Bestselling Author, Speaker, Podcast Host. Her books can be found on Amazon.
Subscribe: https://www.youtube.com/c/anncarden?sub_confirmation=1
Ann shows entrepreneurs how to be seen as top experts in their industry and field to attract and close higher-value clients and grow a business that allows them more freedom from their business to enjoy life more.
This channel will help you improve your business strategy to build a six to seven-figure and beyond coaching or consulting business, package and sell high-value services and products that help you reach your revenue and income goals. We cover online and social media marketing to attract high-value clients, marketing strategy and attraction marketing, how to increase and close more sales, speaking, media promotion and exposure, podcasting, and building and managing a team to scale.
#socialmediamarketing #highticketsales #influencer
Learn more at her website @ www.annlcarden.com
► Connect on LinkedIn: www.linkedin.com/in/anncarden-business-consultant-coach
If you need help growing your existing business and are ready to invest in getting the help you need, you can book a strategy call @ acarden.com