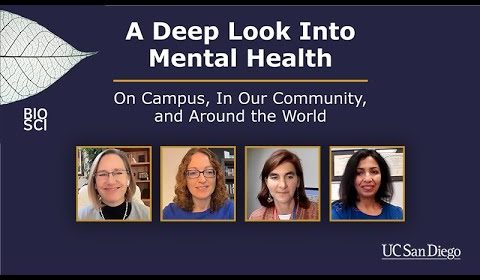 A Deep Look into Mental Health: On Campus, In Our Community and Around the World
Join UC San Diego's School of Biological Sciences for the next event in our Deep Look public speaker series. As we move into the holidays and the winter season, society continues to grapple with challenges to our mental health and wellbeing, from the lingering uncertainties of the COVID-19 pandemic, to an ongoing war, the climate crisis and the struggles of daily living. Long-ignored issues related to mental health have now come to the forefront of our collective consciousness and become less stigmatized. Join us as we explore the mental health crisis on college campuses, views from underserved communities and international perspectives on mental health. [1/2023] [Show ID: 37832]
00:00 Start
00:10 Introduction – Kit Pogliano
01:50 Student Mental Health Crisis: An Overview of UCSD Campus Response
17:26 Mental Health Issues in Our Community – Kelly Brownell
42:06 Key Questions in Global Mental Health – Bonnie Kaiser
56:17 Discussion / Q&A
Please Note: Knowledge about health and medicine is constantly evolving. This information may become out of date.
More from: A Deep Look into the Future of Biology
(https://www.uctv.tv/deep-look-biology)
Explore More Health & Medicine on UCTV
(https://www.uctv.tv/health)
UCTV features the latest in health and medicine from University of California medical schools. Find the information you need on cancer, transplantation, obesity, disease and much more.
Explore More Science & Technology on UCTV
(https://www.uctv.tv/science)
Science and technology continue to change our lives. University of California scientists are tackling the important questions like climate change, evolution, oceanography, neuroscience and the potential of stem cells.
UCTV is the broadcast and online media platform of the University of California, featuring programming from its ten campuses, three national labs and affiliated research institutions. UCTV explores a broad spectrum of subjects for a general audience, including science, health and medicine, public affairs, humanities, arts and music, business, education, and agriculture. Launched in January 2000, UCTV embraces the core missions of the University of California — teaching, research, and public service – by providing quality, in-depth television far beyond the campus borders to inquisitive viewers around the world.
(https://www.uctv.tv)