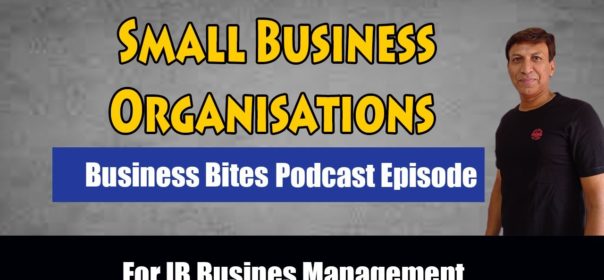 Advantages of Small Business Organisations podcast | IB Business Management| Edu Ignites
#AdvantagesofSmallBusinessOrganisations #IBBusinessManagement #EduIgnites
Advantages of Small Business Organisations podcast | IB Business Management
A business will not become the market leader by chance. It takes careful planning to build an organisation that outperforms its competitors. In business, these plans are called strategies.
Business strategies may be in any functional areas like marketing, human resources, operations, and finance, or in the size of a business. Means, start relatively small and focus on highly specialised segment of a market or start big to meet the needs of the mass market and enjoy the benefits of economies of scale.
Good morning!
Welcome to Business Bites podcast episode!
Today, I am talking about advantages of being a small business.
What is a small business?.
There is no single definition.
Meaning of what is small, varies from country to country. For our academic purpose, a small business is a privately owned corporation, partnership, or sole proprietorship, that has fewer employees, and less annual sales revenue than a regular sized business.
Being a small, offers many benefits such as:
1. Can be managed, and controlled by the owner himself, or herself, and, offers lots of flexibility in terms of business decision making like, product, price, promotion, place and so on.
2. Due to the size of business, and the number of customers, the owner is able to offer personalised services to customers. Customers needs and requirements are better understood. So, there is a perfect match between demand and supply. This leads to a satisfied customer group.
3. The owner of the small business, can keep average cost relatively low, due to lower overheads, and no diseconomies of scale, and
4. Internal communication also becomes easy. It helps the owner of the small business to understand employees better.
However, due to its scale of operation, business may not enjoy the benefits of economies of scale, and small business firms are more vulnerable to impact of external environment factors.
In conclusion, being a small, the owner has really distinctive advantages over larger corporations in terms of focus, uniqueness and expertise. However, certain businesses cannot be started small like iron and steel factory.
Students, visit a small café, or saloon, or grocer, or baker in your area. Find out challenges faced and opportunities available for the owner of the business. Share your findings with your classmates.
Thank you, and happy learning!.
Key words:
Small business organisations, Advantages of Small business organisations, Disadvantages of small business organisations, IB business management, Edu Ignites, RK, Ask RK, Business Bites, What is a small business?, What are the advantages of small business organisations?, IB Businss Management HL, IB Business Management SL,
Related podcasts and useful Videos
Mission statement and Vision statement

Corporate Social Responsibility ( CSR)

Financial Budgeting

Management Vs Leadership

Ansoff matrix

Job Description

Business Growth

You tube channel: https://www.youtube.com/channel/UCuvRvEuHlmAzq3nIB0LWmeg/videos?disable_polymer=1
Our website:
https://www.eduignites.com/
Thumbnail credit: eduignites.com
Acknowledgements:
The publisher ( https://www.eduignites.com/) of this podcast acknowledges materials taken from different sources. The publisher also respects copyright ownership of respective copyright holders. Should there be any problem, please write to info@eduignites.com