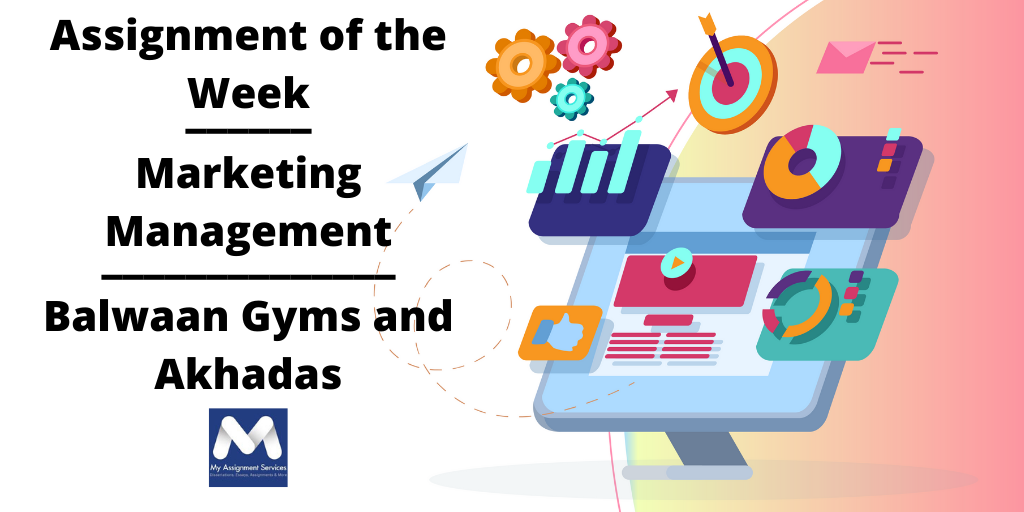 Assignment of the Week: Marketing Management – Balwaan Gyms and Akhadas
To be able to write a marketing management assessment answer flawlessly, you must be thorough with the concept itself. There are several orientations and techniques of marketing that are utilised within the organisational boundaries of a firm. We bring you the assignment of the week – Balwaan Gyms and Akhadas, a marketing management assessment task. In this blog, I shall be giving you a brief overview of the Balwaan Gyms and Akhadas case study along with the assessment answers.
How To Write Balwaan Gyms and Akhadas Marketing Management Assessment Answers?
It is time for you to know how our marketing management assignment experts approach these case studies. There are certain points to be remembered in these, and if you do this, you will be able to draft the perfect assignments just like an expert writes it. Here is a snapshot of the Balwaan Gyms and Akhadas assignment:
Based on the case studies, you are required to answer four questions.
Question 1: List and discuss the major bases for segmentation of consumer markets. Explain the four variables in detail for Balwaan.
To answer this question, our marketing management assignment help experts suggest that you first briefly explain what customer market segmentation is. The four variables you can use for writing this answer are:
Question 2: How will you promote the Brand Balwaan Gyms and Akhadas online? Explain five platforms that you will use to promote the same.
In this second question, we advise you to research the five promotional platforms that they have used. These include:
So, for answering these questions, all the activities that have been discussed above need to be incorporated in the assignment step-by-step. Starting from the organisational mission and going up till marketing control, all the activities are elaborated upon taking suitable evidence and examples from the background details of the company that is chosen for this marketing management assignment sample.
The screenshot above includes the last two questions of the Balwaan Gyms and Akhadas assignment. If you require a full solution, do let us know by filling up the form available on our website.
Marketing Management Process Can Help You in Writing the Balwaan Gyms and Akhadas Assignment Answers
In the above infographic, you might have noticed the main elements/activities that are included in the process of marketing management. However, to make it clearer so that you are able to relate it with Balwaan Gyms and Akhadas marketing management case study, our marketing management experts will now explain each of these briefly below.
1. Organisational mission
It is believed that every organisation has fixed missions. Based on them, the first activity that is carried out under the marketing management process is to devise new strategies that will help attain set goals of the firm for a long period. In this Balwaan Gyms and Akhadas case study assignment, there is a fixed mission of the organisation. This is why our marketing management assignment writers first coin a concrete clear mission statement in the assignment so that students can conduct the self-analysis.
2. Environmental analysis (internal and external environment)
The next activity is to conduct a comprehensive environmental analysis. Under this, our management assignment help experts consider the macro environment of the company, suppliers, intermediaries as well as the competitors and the global environment.
These include the details of the demography, economy, socio-cultural environment and more. In addition to this, all the resources that the firm possesses, all the skill set of their employees and the necessary details about the brand image are also studied.
3. Market analysis
With this activity, the marketing opportunities are analysed. This is a step-by-step process, wherein, the size and characteristic of the competitors are studied. While writing the  Balwaan Gyms and Akhadas marketing management assignment answers, our team conducts market analysis for this firm as well. When students have all the details about their competitors, they can devise a favourable marketing strategy for the firm.
4. Marketing strategy
With the help of a marketing strategy, our experts help students in defining the responsibilities of each member of this assignment. When students have a solid marketing strategy that they can rely on, the decision for the prices of products and promotion activities takes place.
A good marketing strategy involves the following elements:
5. Strategy implementation
We believe that even if you have a robust marketing strategy with yourself, it will fail if not implemented effectively. This is because marketing implementation is defined as the process that is solely responsible for changing robust marketing plans into actions so that the goals and objectives of the firms are met. Owing to this, our marketing management assignment helpers assist students in implementing the marketing strategy effectively.
6. Marketing control
After the strategy is implemented, students are then required to set the standards and monitor whether the marketing plan is meeting them or not. If it is confirming to those standards, then you need to make amendments so that it works as per the requirements of the firm.
So, as per our marketing management assignment help team, following are the steps that we have included in this Balwaan Gyms and Akhadas case study for establishing a marketing control:
Need Help in Writing Balwaan Gyms and Akhadas Marketing Management Assessment Answers? Speak to Our Expert!
This particular assignment includes questions that revolve around market segmentation, promotional tools, and product differentiation. I hope that with this blog, you will be able to answer the four questions given at the end of this case study. But if you need an expert to write it exactly according to the guidelines, do let us know. We have marketing management experts at My Assignment Services who can get you the full solution of the Balwaan Gyms and Akhadas assessment task. Simply call us on the number +61 488 850 910 or write to us at help@myassignmentservices.com. Our customer care team will be happy to take note of your queries and bring the best solutions for them.
Charles Hill
Charles writes blogs and articles for students who are facing problems with their management assignments. His articles have been featured on several websites. He has contributed to the academic enhancement of students from the University of New South Wales, Central Queensland University, Edith Cowan University, etc. He joined the team of My Assignment Services as a consulting expert and now is a full-time academic help provider. His expertise in the field of management covers topics like leadership management, human resource management, business management and several others. His blogs focus on solving the most complex of the queries and simplifying the processes.
View all posts by Charles Hill
This content was originally published here.