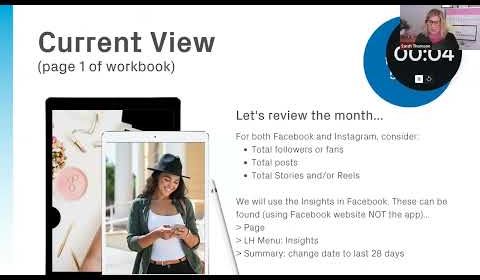 August Monthly Content Planning Class by Sarah T
Do you sit at your computer each morning struggling to write posts for your social media?
The thing is, you are struggling because you lack a plan and I would love to help you create this.
In this 1 hour webinar we will map our your content plan for the upcoming month so you have loads of ideas and inspiration to help you show up with ease and confidence.
This workshop is brought to you by Business Station and AusIndustry under the Digital Solutions Program.
ABOUT PRESENTER
Sarah Thomson, the owner of Online Social Butterfly, has been working as a digital marketing educator and strategist in a space that is punctuated by new faces that come and go. Her experience spans well over 20 years in the Marketing and Communication sector. Prior to starting Online Social Butterfly in 2011, Sarah worked in the corporate world and her career took her to Sydney and the UK and her experience range from large multi-nationals, government, not-for-profit and small businesses.Together with her husband, Grant, who is the resident web designer, Online Social Butterfly offers expertise to guide business owners through the ever-changing waters of digital marketing. They offer a range of services that assist their clients in creating and implementing a digital strategy that encompasses websites, social media and CRM integration.
As well as extensive experience, Sarah has an array of qualifications including a Bachelor of Commerce (Marketing), Diploma in Direct Marketing, Post-Graduate Diploma Business (Management) and is about to complete her Masters in Communications Management.
Sarah has been running social media workshops for the past 7 years both in-person and online. In that time, she has trained thousands across a range of topics, specialising in social media and understanding it as a marketing tool.
#contentplanning #socialmediacontent #contentcreation
About Digital Solutions – Australian Small Business Advisory Services
The Digital Solutions program is built to help small business owners develop their digital marketing skills, from social media to building a better website, making online sales, creating Google and Facebook Ads, and more. All with the advisory and guidance of experienced industry experts who keep you on the right track and help you learn with step-by-step support and check-ins.
In almost four years we've helped over 15,000 small businesses in QLD, WA and NT to become more confident with digital marketing. With generous support and sponsorship from the Australian Government, you can access over $1,000 value in business advisory, training and online resources for only $44.
At this event, we'll discuss how our program works and how we can help you to build a more resilient business.
Important – Participating businesses must be aware that this information will be provided to the Commonwealth Department of Industry, Science, Energy and Resources for program evaluation and reporting purposes; and businesses may be approached by a representative from the Department to complete a survey on the services provided.