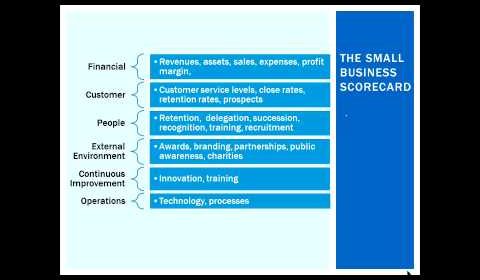 Benchmarking & Performance Management for Small Business
If you are a small business trying to figure out how to motivate your employees or figure out if your business is on track, you need performance measures.
Performance measures are a great way to ensure that every single day you are doing things to help your business today and tomorrow. Even better it helps ensure that your partners and employees are doing the same thing.
In 20 minutes find out how metrics impact human behaviour, learn the parts of a small business balanced scorecard, and figure out what your small business' key performance indicators are.
If you like this video, check out;
Starting Up Right : http://youtu.be/lDTKxhtcYcY
Let Your Creativity Out: http://youtu.be/6G0ianP7cUM
Benchmarking & Performance Management for Small Businesses: http://youtu.be/niYhhUna5CU
Steps To a Super Slogan: http://youtu.be/fPUaG2jGluM
Ecommerce 101: http://youtu.be/gHxaMsZRS8g
Small Business Growth Strategies: http://youtu.be/Ax-gBLQOoiY
Branding Basics Your Business Can't Live Without: http://youtu.be/Vs3N_HBoWvo
YouTube's Powerful Tricks: http://youtu.be/-3Cd7_qyOTk
New Product Development: http://youtu.be/MR-yDPQ0dhg
Path of an Author: http://youtu.be/ZR-YK_JDZF4
Sales Storytelling: http://youtu.be/jPuS1Uh072I
The HST Lowdown: http://youtu.be/1Ys4WJok60M
Will It Fly? The Idea Tester: http://youtu.be/LngiA057LWg
Amazing Customer Service: http://youtu.be/KNr8jMc-aJU
Social Enterprise & Non Profit 101: http://youtu.be/FCANS_ijSQw
Becoming A Networking Guru: http://youtu.be/bLIGCDZa7LA
Increasing Your Profitability: http://youtu.be/qdNDNdMFZ-8
Customer Loyalty: http://youtu.be/gcsjHlRwGfs
Twitter's Best Kept Secrets: http://youtu.be/sLn4SjBnagg
Top 7 Legal Concerns of a Small Business Owner: http://youtu.be/IGjMpM_o-5w
Make Your Home Business Fly: http://youtu.be/FHzIj-WhToY
How To Use Blogging To Grow Your Business: http://youtu.be/rIh1oiF5XC0
Small Business Tax Preparation: http://youtu.be/vV6yU30KCPg
Easy Website Best Practices: http://youtu.be/ecgG-2TWkXc
Preparing For Change: http://youtu.be/YOf7U-u9AA0
Scaling A Small Business: http://youtu.be/X9IVgVnGe24
Lead Generation: http://youtu.be/3WrF54TVm9E
4 Conversations of a Leader: http://youtu.be/842ThTKrOJw
Recruitment On A Shoestring: http://youtu.be/-t-g4jmCzHg
Social SEO: http://youtu.be/m8hk8HVJH6c
Build A One Page Business Plan That Pops: http://youtu.be/SdorfO5TLjE
Small Business Accounting Basics That Save You Money: http://youtu.be/WQ7udRhEZQM
Build Your Financials In Minutes: http://youtu.be/xI2aqeWs5dg
Use IT To Ramp Up Your Business: http://youtu.be/Xt3owHIyhOE
Get Business With LinkedIn (Really!): http://youtu.be/szYm9QMHbQ0
Get Customers To Pay & Collect When They Don't: http://youtu.be/erxisLE-Zu0
Employee Engagement (The Art of Employee Retention): http://youtu.be/ihQWVjm8EgQ
Strategic Planning 2013: http://youtu.be/Fi1CVBpzbvI
Market Research: http://youtu.be/WkqaURaG6SE
The Top Free & Close To Free Marketing Tools That Work: http://youtu.be/WVUrKl13yuw