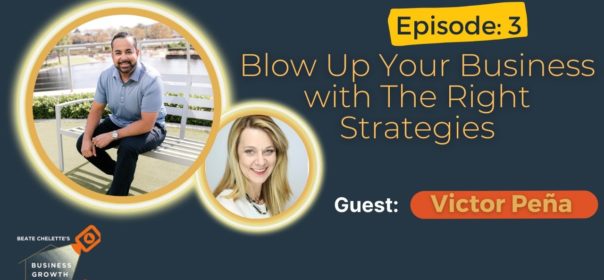 Blow Up Your Business with Victor Pena | Business Growth Architect Show
If you know it's time to go bigger with your business and are looking for the inspiration and insight to do so, look no further. I'm excited to have Victor Peña joining me on the show today to talk about his evolution as an entrepreneur, investor, and philanthropist. Victor is the founder and CEO of one of the fastest-growing companies in the U.S., OmniPrint International @OmniPrint International , and he's going to share some important insight into finding success, snatching up opportunities, leveraging digital marketing in-house, scaling your business, and much more.
Podcast link:
Ep #03: Victor Peña: Blow Up Your Business with The Right Strategies
Beate Chelette is the Growth Architect and creates and designs strategies and growth plans for visionaries and leaders who want to maximize profits and scale their impact.
We don't sell the dream, we provide tangible tools and techniques that unify your teams, give you clear steps to improve your business systems, and strengthen your leadership skills.
There are a million ways to be successful. You only need to find one, yours! And that is what I want to do with and for you.
That is why I am here.
To help you devise your strategy–your blueprint–so that you can grow, build and scale your business and impact.
LINKS
✔ W E B S I T E
https://beatechelette.com
Follow us on:
✔ L I N K E D I N
https://www.linkedin.com/in/beatechelette
✔ I N S T A G R A M
https://www.linkedin.com/in/beatechelette
✔ C L U B H O U S E
@growtharchitect
✔ F A C E B O O K
https://www.facebook.com/GrowthArchitecture
https://www.facebook.com/groups/myentrepreneurforum
✔ T W I T T E R
Tweets by BeateChelette
#BeateChelette #VictorPeña #GrowthArchitect #BusinessGrowthArchitectShow
#businessgrowth #businessstrategies #salesstrategies
#scalingabusiness #businessgrowth #Business #Entrepreneurship #GrowthArchitect #WomensCode