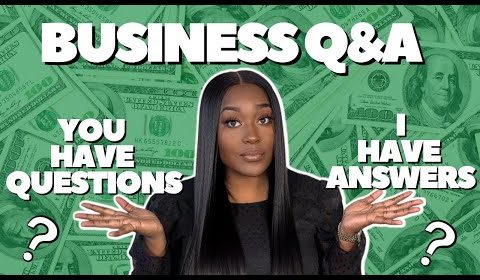 BUSINESS Q&A | Entrepreneur Chat
In this video, I will be answering questions pertaining to business and entrepreneurship that I received on Instagram. This video covers finding vendors, travel, support from family and friends and so much more.
Disclaimer: I am sharing this video based on my own personal experience.
Book A 1 on 1 Strategy Session with Me: https://www.iamdestinyadams.com/products/book-a-strategy-session?variant=34065418747963
Grab my guide on How To Create Your Online Business: https://www.iamdestinyadams.com/collections/business-resources/products/the-business-itinerary-ebook-a-roadmap-to-creating-your-online-business
EBOOKS/ EVENTS/MASTERMINDS: Please visit: iamdestinyadams.com
Join My Facebook Group: https://www.facebook.com/groups/4557158377648019
Follow Destiny Adams on Social Media:
Instagram: https://www.instagram.com/iamdestinya…
Facebook: Facebook.com/iamdestinyadams
Some product links are affiliate links which means if you buy something we'll receive a small commission.
Must have business products and camera equipment: amazon.com/shop/iamdestinyadams
For Sponsorships/Collaborations email: iamdestinyadams@gmail.com
#Business101 #BusinessQA #IamDestinyAdams