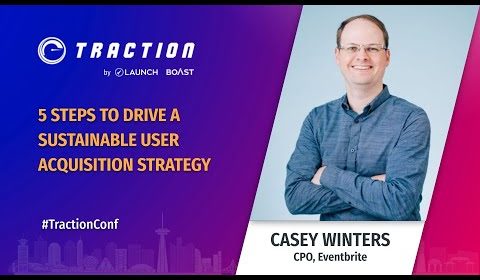 Casey Winters, Eventbrite – 5 Steps to Drive a Sustainable User Acquisition Strategy
The most celebrated companies are shrouded in buzzwords… Hockey stick growth, Going viral, Rocketship.
The reality is that in the early days you're elbows out, moving fast, and doing things that don't scale, while trying to get customers by any means possible…
But if you want to build a lasting business, you need to figure out a scalable way to grow after that initial burst of customer validation.
This is where most startups fall.
In this session, Eventbrite's CPO will help us look beyond the jargon and think through the 5 key steps to drive a sustainable user acquisition strategy from his experience helping iconic brands like Pinterest, Airbnb, GrubHub, Tinder, Canva, and Lyft scale.
Traction Conf 2022 is Presented By
https://boast.ai – helps companies get R&D tax credits and innovation funding to fuel their growth.
https://launchacademy.ca – premier incubator that helps international entrepreneurs launch, fund, and grow their startups. +6,000 entrepreneurs supported, over $2 Billion in startup funding.
Platinum Sponsors
https://vanhack.com – quickly find Senior Developers from a global talent community of +400,000
https://zendesk.com – award-winning customer service software trusted by 200K+ customers. Make customers happy via text, mobile, phone, email, live chat, social media.
Gold Sponsors
https://duplocloud.com – DevOps-as-a-Service. Give your developers self-service with our no-code / low-code cloud infrastructure automation platform.
https://lendflow.com – embed lending into your products and improve customer Life Time Value by 2-5x while driving long-term loyalty and building a new revenue stream with little resources.
https://expensify.com – on-in-one app to track expenses, submit expense reports, pay bills, generate invoices, collect payments, track mileage, plan trips, and get the best corporate credit card.
https://later.com – all-in-one social marketing platform for the top social networks. Plan, analyze, and publish your content in a few clicks — so you can save time and grow your business.
https://amberflo.io – capture usage intelligence to inform roadmap development and enable Product-Led Growth. Intelligently test, deploy, and scale usage-based pricing plans.
https://www.westbridgecap.com – venture capital fund that has Investments of over US$ 5.6 billion in 120+ companies.
Silver Sponsors
https://supportlogic.com – SupportLogic unlocks insight from unstructured data in every customer interaction and shares actionable recommendations.
https://loom.com – record your screen and camera with one click. Share that content in an instant with a link.
https://maxio.com – subscription and revenue management platforms to enable SaaS companies to offer flexible pricing and packaging—without the financial headaches.
https://www.smythecpa.com – accounting, assurance, taxation, and business advisory services, Smythe to help organizations navigate their growth journey.
https://www.supportbench.com – personalized customer support software that increases brand equity and creates an effortless user experience.
https://creator.co – the No.1 Influencer Marketing Platform connecting content creators with awesome brands.
https://www.svb.com/canada – Global Banking, Venture Debt, and Forex Services for high-growth startups.
https://segev.ca – Business, Tech, Real Estate, and iGaming Law firm that works with the largest tech, gaming and development companies in the world.
https://www.idaireland.com – helps you expand into Europe by setting up operations in Ireland.