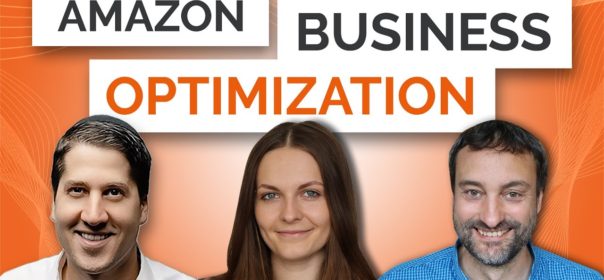 Complete Guide on Amazon FBA Business Operations Optimization
Learn how to optimize your Amazon business. This presentation will include a focus on:
– Finance – A few tips about how to manage cash flow, considering taking loans, and focusing on profitability
– Logistics – what is the current challenges of Amazon sellers logistics, and how they can be alleviated
– Hiring – Tips of what kind of talent sellers can consider hiring, and how to manage workflows
– Auditing – Recognizing the potential of FBA auditing and increasing profitability
– Structure – How to organize your Amazon business in a way where is scalable, and having an exit plan in mind.
🔶ABOUT SELLER FEST ONLINE
It is a virtual summit that helps Amazon sellers to learn up-to-date strategies and tips that work right now for increasing sales and growing a successful Amazon business. The content is presented by carefully selected Amazon experts. Learn more: https://sellerfest.online/
Upgrade to the VIP Package https://sellerfest.online/vip/ which includes additional bonus trainings, which are not available on our channel.
▶️ Find all Seller Fest Online 2022 sessions in this playlist: https://www.youtube.com/playlist?list=PLMKjignId9DoexCwqd3ncaGrL-nPkFL05
______________
👉 Offers from video sponsors:
GETIDA – Amazon auditing, reimbursements and refunds. Get $400 in free FBA reimbursements: https://online.getida.com/orangeklik
UNYBRANDS – Amazon FBA acquirer – build, boost & sell your FBA & direct-to-consumer brand: http://www.unybrands.com/
ZEE – complete compliance, customs and logistics solutions. Get 50% off your first shipment: https://oklik.co/zee-sfo
PERPETUA – eCommerce advertising software for Amazon, Walmart and other marketplaces: https://oklik.co/perpetua-sfo
HELIUM 10 – Amazon FBA & Walmart software for sellers. Get discount when signing up: https://oklik.co/helium10-sfo
______________
🔶 TOPICS COVERED IN THE SESSION:
➤ 00:00 Session and sponsors introduction
➤ 02:35 About GETIDA and Yoni Mazor
➤ 06:28 Business accounting tools
➤ 10:25 Human resource tips
➤ 22:27 FBA logistics considerations
➤ 29:33 eCommerce operation management
➤ 42:22 Misc business tools
➤ 50:58 GETIDA Amazon scaling blueprint and services
➤ 59:35 Reimbursement and general business tips
______________
🔶 About YONI MAZOR
Yoni is the CGO & Co-Founder of GETIDA. Yoni began developing GETIDA after successfully operating a $20 million yearly Amazon FBA business, selling fashion brands internationally. GETIDA specializes in Amazon FBA auditing and reimbursements. By utilizing data visibility technology, GETIDA focuses on discovering and managing financial and inventory-related discrepancies with billions of dollars of transactions managed daily. Yoni also comes with military intelligence experience, having served in the IDF Special Navy Intelligence.
👉 Seller Fest Online participants are eligible to get $400 in free FBA reimbursements. Claim the offer here: https://online.getida.com/orangeklik
______________
🔶 About ORANGE KLIK
Orange Klik connects Amazon FBA private label sellers with leading industry experts to help you turn your online business into a massive success. No matter if you are a beginner, still figuring out how to make money online, or an advanced Amazon seller with a strong experience in eCommerce, on this channel you will find up-to-date tips and expert recommendations for sellers of all levels of experience.
Subscribe to Orange Klik channel: https://oklik.co/subscribe
______________
** Affiliate disclaimer: some of the above links may be affiliate links, which may generate us a sales commission.
#SellerFestOnline #OrangeKlik #AmazonFBA