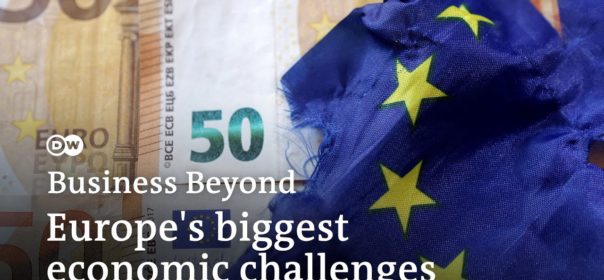 Crisis point: Europe's economic future | Business Beyond
Russia's war in Ukraine has drawn renewed attention to Europe's role on the world stage. Having displayed a unified response to Russian aggression by imposing sanctions on Moscow and helping millions of Ukrainian refugees, the continent is now facing other urgent challenges including the cost-of-living crisis, energy shortages and an increase in extreme weather.
In this video we explore how the European Union's unique history informs its response to various crises, how national and common interests collide and how the next decades could be shaped by new trading relationships, particularly with Africa.
We also consider Europe's challenges in the field of innovation and ask what needs to be done for the continent to achieve its goal of becoming a global leader in the green transition.
Chapters:
00:00 Intro
01:19 History of EU
03:34 EU's response to Ukraine war
06:03 Cost-of-living crisis
07:57 Climate crisis
10:13 Can Europe innovate?
13:09 Europe's identity crisis
15:05 EU's trading relationships
18:50 New partnerships: Europe and Africa?
20:20 European Leadership
22:54 Conclusion
Subscribe: https://www.youtube.com/user/deutschewelleenglish?sub_confirmation=1
For more news go to: http://www.dw.com/en/
Follow DW on social media:
►Facebook: https://www.facebook.com/deutschewellenews/
►Twitter: https://twitter.com/dwnews
►Instagram: https://www.instagram.com/dwnews
►Twitch: https://www.twitch.tv/dwnews_hangout
Für Videos in deutscher Sprache besuchen Sie: https://www.youtube.com/dwdeutsch
#EU #Europe