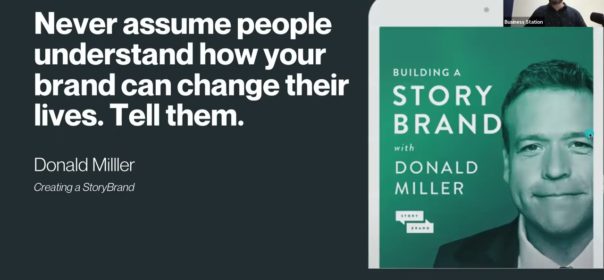 Designing a website for a service business that works by Dante
Drop into almost any small business website and you'll find it hard to avoid the cringe-worthy claims and common cliches like "best in the business" or "our difference is customer service."
We all know that if you have to tell us how good you are, you're probably not all that good.
Customers use websites to find out information, verify referrals, buy products, order services and research future purchases.
Yet we seem to want to fill out websites full of useless, redundant information that doesn't help our customers to do any of this.
In this online class based upon the work of Donald Miller in "Building a StoryBrand" you will learn:
1. What we all do wrong with websites
2. The anatomy of a website that works
3. What you need in each section of your site
4. The language you should be using
5. What the best performing websites are laid out like
This workshop is brought to you by Business Station and AusIndustry under the Digital Solutions Program.
ABOUT PRESENTER
Dante St James is one of Australia's most accredited and recognised digital skills trainers, having started coding his own games on a Commodore 64 in 1985, to building websites from 1996 and having worked in media, marketing and technology since then. Having seen the rise of the web, web 2.0, social media and now the beginnings of the metaverse, Dante has maintained a place at the forefront of technology for nearly four decades.
Now based in the Northern Territory, Dante has been recognised as a finalist for three years running in the NT Digital Excellence Awards, has been selected as one of five accredited trainers for Meta (Facebook) Australia, holds training contracts for Google's Digital Springboard program and working with the Australian Government's Digital Solutions and Entrepreneurship Facilitators programs.
Dante has accumulated 107 certifications in various technologies and business skills, which he sees as vital for the operation of his training and marketing agency, Clickstarter, and the growth of his mobile and NBN reseller business, Cellular One. In 2022, Dante has launched StartUp Territory, a pre-accelerator program for new businesses and the Marketing Institute of the Northern Territory.
#storybrand #webdesign #conversionoptimisation
About Digital Solutions – Australian Small Business Advisory Services
The Digital Solutions program is built to help small business owners develop their digital marketing skills, from social media to building a better website, making online sales, creating Google and Facebook Ads, and more. All with the advisory and guidance of experienced industry experts who keep you on the right track and help you learn with step-by-step support and check-ins.
In almost four years we've helped over 15,000 small businesses in QLD, WA and NT to become more confident with digital marketing. With generous support and sponsorship from the Australian Government, you can access over $1,000 value in business advisory, training and online resources for only $44.
At this event, we'll discuss how our program works and how we can help you to build a more resilient business.
Important – Participating businesses must be aware that this information will be provided to the Commonwealth Department of Industry, Science, Energy and Resources for program evaluation and reporting purposes; and businesses may be approached by a representative from the Department to complete a survey on the services provided.