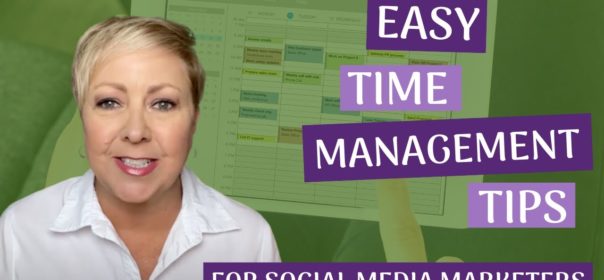 Easy Time Management Tips For Social Media Managers
Easy time management tips for social media managers that will increase productivity and improve the bottom line. This video will go over time management skills, time management strategies, time management techniques and productivity tips. We will use social media strategy examples and provide social media marketing tips. If you are an entrepreneur providing social media marketing services you know time is money.
🔥 BOOK A (FREE) DISCOVERY CALL //
Finally ready to start the business of your dreams?
Started your social media or freelance business but it's not taking off like you expected?
Book a Discovery call with us today: https://bit.ly/callwithkirsten 🔥
ESSENTIAL RESOURCES SUCCESSFUL ENTREPRENEURS USE DAILY (FREE)
https://top100resources.com
LASTPASS PASSWORD MANAGER
https://www.lastpass.com/
ASANA PROJECT MANAGEMENT SOFTWARE
https://asana.com
HIRING A VIRTUAL ASSISTANT IN THE PHILIPPINES

Videos mentioned in this video/or to check out…
♦️SMART BUSINESS SCALING TIPS ♦️
EMAIL MARKETING FOR SOCIAL MEDIA MANAGERS AND FREELANCERS

HOW TO USE CANVA TO CREATE AN OPT-IN

HOW TO USE CANVA TO CREATE A HEADER IMAGE IN CONVERTKIT

MISTAKES FREELANCERS MAKE THAT HURT THEIR INCOME

DRAGONTREE RITUALS FOR LIVING DREAMBOOK + PLANNER FOR BUSINESS [GOAL SETTING]

FEMALE ENTREPRENEURS – GET PAID UPFRONT! // NEVER CHASE A CLIENT FOR PAYMENT AGAIN!

HOW TO USE CANVA TO CREATE VIRTUAL BACKGROUNDS FOR ZOOM

USING A/B TESTING IN CONVERTKIT FOR KILLER OPEN RATES

EMAIL OPT IN IDEAS THAT BUILD YOUR LIST

USING MAILCHIMP AND CANVA TO DESIGN PROFESSIONAL EMAILS:

HOW TO QUICKLY GROW YOUR EMAIL LIST FROM 0 TO 1000:

COLLABORATE TO STRATEGICALLY GROW YOUR EMAIL MARKETING LIST:

EMAIL MARKETING BEST PRACTICES:

EMAIL MARKETING STATS THAT DRIVE REVENUE:

CANVA TO CREATE FACEBOOK POSTS
(DESIGN PROFESSIONAL GRAPHICS IN MINUTES – Tutorial)

INSTAGRAM POSTS USING CANVA
(CREATE BEAUTIFUL GRAPHICS IN MINUTES)

HOW TO HANDLE A NEGATIVE REVIEW LIKE A BOSS

CUSTOMER REVIEWS AND TESTIMONIALS ARE A GAME CHANGER!

BEST FREE SOFTWARE FOR STORING PASSWORDS:

♦️STARTING A HOME-BASED BUSINESS/BECOMING AN ENTREPRENEUR ♦️
AM I TOO OLD TO BECOME A SOCIAL MEDIA MANAGER?

HOW DO I GET CLIENTS AS A FREELANCER, VA, OR SOCIAL MEDIA MARKETER

HOW TO GET CLIENTS TO PAY UPFRONT:

BUILD A BUSINESS: DITCH THE 9 TO 5 TO BE YOUR OWN BOSS

FREELANCE BUSINESSES YOU CAN START WHILE WORKING FULL TIME

I WANT TO WORK FROM HOME, WHERE DO I START?
CHOOSING YOUR WORK FROM HOME BUSINESS:

BEST SMALL BUSINESSES TO START FROM HOME:

CAN YOU REALLY MAKE GOOD MONEY WORKING FROM HOME?

WHAT I WISH I KNEW BEFORE I STARTED WORKING FROM HOME

🐣TWEET THIS VIDEO: https://ctt.ac/0Sb0j
👉CANVA Design Software (free version)
https://partner.canva.com/SFBC
Say 'Hi' on social: 😊
Facebook: https://www.facebook.com/SixFigureBusinessCoaching
Facebook Group: https://www.facebook.com/groups/masteringonlinemarketingforfemaleentrepreneurs
Instagram: https://www.instagram.com/SFBizCoaching/
Twitter: https://twitter.com/SFBizCoaching/
NOTE: This video description may contain affiliate links that allow you to find the products and services mentioned in the video and support our channel at no cost to you. While our channel may earn a little when you use an affiliate link, you are not obligated in any way to use them. We appreciate you either way!
#WorkFromHome #SixFigureBusinessCoaching #SocialMediaManager
https://youtu.be/yoEfaK_ZFiM