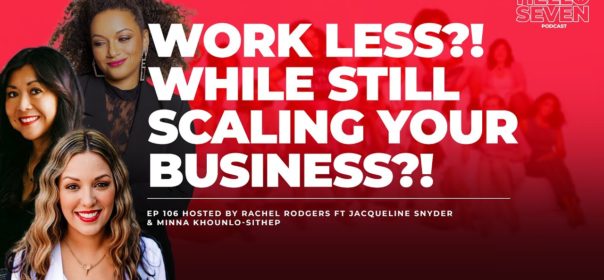 EP# 106 – WORK LESS?! While Still SCALING Your Business?! – The Product Boss
We're back at the ranch, this time with The Product Bosses: Minna Khounlo-Sithep and Jacqueline Snyder. They have grown an incredible community of high-achieving product-based entrepreneurs, and their goal is to change the landscape of product entrepreneurship by connecting women around the world through a blend of real-life business tactics, creative strategy and modern leadership.
Their love language is product business and how they've built a successful business around this passion is something all of us can learn from. They've grown their team despite thinking, even as a seven-figure business, that they were unable to hire, and they've realized that a truly successful business needs to be able to run without their presence.
Tune in this week to hear from The Product Bosses about how they've shifted in their business in the past 12 months, hiring talent, taking themselves out of the day-to-day, and focusing on what they do best: making millions. Minna and Jacqueline are sharing their journey through hiring, upleveling, and working towards eight figures with the support of others on the same journey.
In this episode, you will learn;
👉🏾Why hiring is a big sticking point for entrepreneurs, stunting their growth, keeping them stuck at six figures.
👉🏾How Minna and Jacqueline expanded their team, giving them more time to work in their zone of genius.
👉🏾Why your business needs to be able to run and be successful without your presence.
👉🏾How, as first-generation Americans, Minna and Jacqueline were socialized to think work needs to be hard and they need to operate at capacity.
👉🏾One simple thing you can do now to take something off your plate and let it be easy.
👉🏾Why simplicity is the only way to scale.
👉🏾How being in the Hello Seven Mastermind allowed Minna and Jacqueline see what's possible for their business and their future.
Mastermind application: https://helloseven.typeform.com/to/dzAL9K6I
Multi-Stream Machine: https://www.theproductboss.com/helloseven
CONNECT WITH THE PRODUCT BOSS:
https://www.theproductboss.com/
http://instagram.com/theproductboss
http://www.facebook.com/theproductboss
https://www.youtube.com/channel/UCsxpnARluJTJV7QJtbhEgwg
https://www.theproductboss.com/podcast
CONNECT WITH MINNA KHOUNLO-SITHEP:
http://www.lillabels.com/
https://www.instagram.com/lillabelsco/
http://www.amazon.com/lillabels
CONNECT WITH JACQUELINE SNYDER:

https://www.instagram.com/designerconsultingcoop/
https://www.facebook.com/designerconsultingcoop
SUBSCRIBE AND RATE THE AUDIO PODCAST:
SPOTIFY: https://open.spotify.com/show/5Z94TrO…
APPLE: https://podcasts.apple.com/us/podcast…
❤GET IN TOUCH WITH RACHEL❤
INSTAGRAM: https://www.instagram.com/rachrodgers…
FACEBOOK: https://www.facebook.com/rachelrodger…
TWITTER: https://twitter.com/rachrodgersesq
YOUTUBE: https://www.youtube.com/watch?v=RQDK3…
WEBSITE: https://helloseven.co/