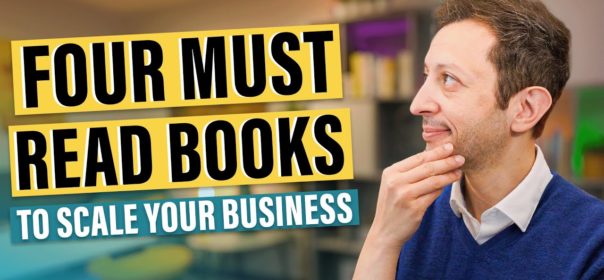 Essential Books for Small Business Owners and Entrepreneurs – How to Run a Business Effectively
What are the most essential books for small business owners and entrepreneurs that teach how to run a business effectively?
I'm so glad you asked because I happen to know some of the most essential books for small business owners that you NEED to read. Did you know that Bill Gates reads around 50 books a year? He isn't the only high-flying businessman who reads as though their life depends on it. Warren Buffett reads between five and six hours a day while Elon Musk reads two books per day. Do you see where I'm going with this?
Successful people read. Reading is vital for personal growth. Oh, and it can also help you learn how to run, manage, and grow a successful business. However, with thousands of essential books for entrepreneurs to choose from (and limited time to read them all), what books should you add to your must-read list?
Watch this video to find out!
In this video I cover:
• Why it's important to read books that teach you how to run a business effectively
• Four of the top business books that every small business owner and entrepreneur should read
• My E-Myth review, Scaling Up review, Rocket Fuel review, and Traction book review
• A secret bonus book recommendation that can help you scale your business lightning-fast!
0:00 – Intro
1:00 – How much do Bill Gates, Warren Buffett, Elon Musk read?
2:07 – This is not a best business book list, but they are my essential reading recommendations.
3:11 – The first recommended book, number 1, THE E-MYTH, every business owner needs to read from the start of their business.
5:30 – How The E-Myth uniquely frames how to think about your business to set it up for success, and future scaling.
6:22 – Book recommendation number 2, TRACTION! After reading book 1 this is your next essential book to read. Learn about having a vision, why it's so important, and how that can carry you through.
7:52 – Key learnings from book number 2.
8:50 – Next recommendation book number 3, ROCKET FUEL!
10:05 – Understand if you are an entrepreneur visionary or integrator? To grow your business you'll need to know which you are and hire the other.
12:25 – My recommended book to read next is number 4 SCALING UP! This is more advanced in your entrepreneur journey when you are ready to scale!
13:30 – How 'Scaling Up' divides up the process of scaling your business.
13:57 – Why you should still read 'Scaling Up' even if your business is not ready to action these actions yet.
15:19 – Summary of the essential books I recommend every business owner and entrepreneur reads now!
15:44 – BONUS BOOK!
What is your favourite 'business book of 2020?' (or any year, really) – Let me know in the comments
Books mentioned:
• The E-Myth Revisited by Michael E. Gerber: https://amzn.to/3ECBtZb
• Traction: https://amzn.to/3sNufPA
• Rocket Fuel by Gino Wickman and Mark C. Winters: https://amzn.to/3JntiUe
• Scaling Up by Verne Harnish: https://amzn.to/3JnKh8Q
• Blitzscaling by Reid Hoffman and Chris Yeh: https://amzn.to/32rzGt4
I post a new video every Wednesday, so please subscribe to this channel (CEO Entrepreneur by Tamer Shahin) NOW: https://www.youtube.com/c/ceoentrepreneur?sub_confirmation=1
Don't forget that you can also read the blog post on this topic if you prefer, just head over to https://ceoentrepreneur.com/essential-books-for-small-business-owners-and-entrepreneurs-how-to-run-a-business-effectively and read the post titled – Essential Books for Small Business Owners and Entrepreneurs – How to Run a Business Effectively
This video is Essential Books for Small Business Owners and Entrepreneurs – How to Run a Business Effectively: https://youtu.be/mJ5TVt2twzw
ABOUT ME
Hi! I'm Dr. Tamer Shahin, the Founder & CEO of CEO Entrepreneur, where we help small business owners scale their businesses, without sacrificing their lifestyle, wellbeing, or freedom. I'm also a Serial Entrepreneur, TEDx speaker, Executive Coach, Consultant, Author, Speaker, Investor, and now… I'm a 'YouTuber.'
I've grown several multi-million-dollar businesses from scratch. Some of these businesses were massively successful and others turned out to be catastrophic failures! Nonetheless, I picked myself up and learned a lot from all of my extraordinary success and catastrophic adversity.
Now, I'm taking everything I've learned and leveraging it to create this YouTube channel and help people like YOU scale your business to astronomical heights. Each week, I'll be sharing tactics, tips, tools, and insights to help transform you into a "cool as a cucumber" CEO.
**Disclaimer**
Results are not typical nor guaranteed. You are responsible for your own actions and decisions. Neither Tamer Shahin nor CEO Entrepreneur can be held liable for any results you may or may not get as a result of decisions you take during or after watching these videos.
Links to products can sometimes be affiliate links where I will benefit from a small kickback.
#CEOEntrepreneur #scaleyourbusiness #bestbusinessbooks