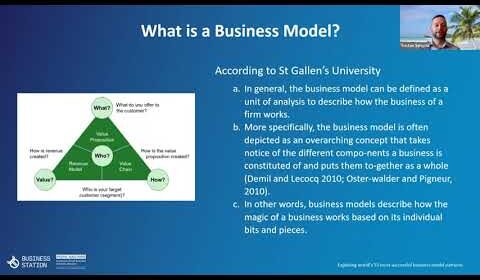 Exploring world's 55 most successful business model pattern by Tristan
Level: Intermediate
Researchers from University of St Gallen in Switzerland have discovered that just 55 business models are responsible for 90% of the world's most successful businesses.
These 55 models – from the Add-On model used by Ryanair to the Subscription model used by Spotify – provide the blueprints you need to revolutionise your business and drive powerful change.
In this workshop we will take a look at the 55 Business Model patterns identified by University of St Gallen
This workshop is brought to you by Business Station and AusIndustry under the Digital Solutions Program.
ABOUT PRESENTER
Tristan is a highly experienced Business Advisor & Mentor specialising in:
– Agile Business Planning
– Business Model Clarification
– Startup & Small Business Strategy
– Entrepreneurial Capacity Building
– Venture Architecting
The Why
One of the main reasons why Small Businesses and Startups aren't realising success for themselves and their communities is because they aren't undertaking rigorous enough or agile enough Business Planning and Business Modelling. Having served almost 300 Startup and Innovative Small Business Owners in an advisory capacity, it has become abundantly clear they need help to get their business planning and modelling done to a very high standard!
Interesting Facts
– Business Planning has become progressive less popular in Australia since Google Trends started recording the search volumes in 2004
– The Search Volume for 'Business Model Canvas' in WA, NT & Tas is currently zero
– Business School/MBA graduates don't appear to be applying their Business Planning and Modelling knowledge in industry or to their small businesses
– Most businesses owners don't yet know how powerful and impactful agile business planning can be for their organisation
The What
Through his work with hundreds of 'Digital Solutions' clients Tristan has a systematic way of undertaking agile business planning together with Small Business and Startup founders.
Co-creating agile business plans with Tristan is not only fun & inspiring it is also game changing for the Small Business or Startup.
Tristan's Agile Business Planning System makes use of:
– The Business Model Canvas
– The Value Proposition Canvas
– The Operating Model Canvas
– The Business Model Portfolio Map
– Customer Empathy Mapping
– Go-To-Market Scenario Scoring Worksheets
– Path-to-Market Simulations
Tristan plans are to extend and expand this Business Planning capacity building system to eventually help founders beyond WA, Qld & NT!
How
If you would like to learn more about Co-Creating an agile business plan for small business or start-up feel free to reach out:
– tristan@businessstation.com.au
– 0434 963 505
– Book time to meet & greet here: https://calendly.com/tristan-81/30min
#businessmodel #businessmodelpatterns #adaptability #smallbusiness #startup
About Digital Solutions – Australian Small Business Advisory Services
The Digital Solutions program is built to help small business owners develop their digital marketing skills, from social media to building a better website, making online sales, creating Google and Facebook Ads, and more. All with the advisory and guidance of experienced industry experts who keep you on the right track and help you learn with step-by-step support and check-ins.
In almost four years we've helped over 15,000 small businesses in QLD, WA and NT to become more confident with digital marketing. With generous support and sponsorship from the Australian Government, you can access over $1,000 value in business advisory, training and online resources for only $44.
At this event, we'll discuss how our program works and how we can help you to build a more resilient business.
Important – Participating businesses must be aware that this information will be provided to the Commonwealth Department of Industry, Science, Energy and Resources for program evaluation and reporting purposes; and businesses may be approached by a representative from the Department to complete a survey on the services provided.