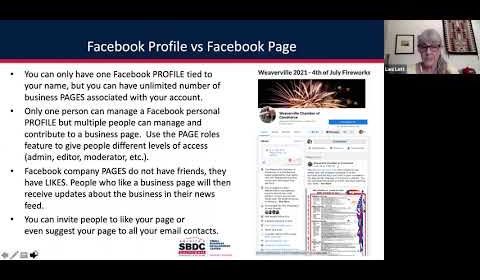 Facebook 101: Managing and Growing a Robust Facebook Business Page – August 23, 2021
Due to events of the past year, many businesses are exploring how can they continue to grow their brand and virtually reach new customers while keeping the existing audience engaged.
This training is designed for businesses who have created a Business #Facebook page and want to gain a better understanding of how to leverage the various features and settings available to build a robust Facebook business presence. The trainer will also discuss the importance of drafting a content calendar to push out engaging content to help grow your page's followers, how to leverage your other social media platforms with Facebook to support your marketing strategy and recovery efforts and using Facebook's insights to track your return on investment.
Instructor: Lani Lott, SBDC consultant.
For the last two decades Ms. Lani Lott has been assisting business owners with their marketing strategy in creating sales and driving profit.