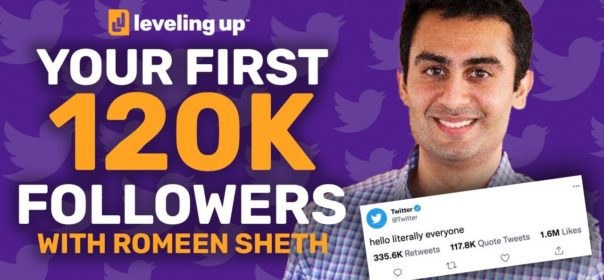 Growing your first 120K Twitter Followers with Romeen Sheth
Today on the show, Eric sits down with Romeen Sheth, President of Metasys, for an insightful and honest conversation on how he has used Twitter to become a better thinker!
00:58 – Romeen Sheth's career overview
03:13 – The need for a company like Metasys
09:58 – How Romeen Sheth approaches Twitter
18:06 – Twitter as a business accelerator
19:27 – What Romeen Sheth means by Clarity of Thought
25:29 – Romeen Sheth's definition of the Renaissance Decade
30:08 – Romeen Sheth's investments
38:39 – Romeen Sheth's favorite personal and business tools.
40:00 – Find Rommen Sheth online!
Leveling Up Heroes NFT:
👾 Join Our Discord: https://discord.gg/vbXEDP5gdM
📲 Follow Our Twitter For Updates: https://twitter.com/levelingupnft
🔥 Learn More About The NFT Project: https://heroes.levelingup.com/heroes/
🥳 Let's Level Up together! Connect with me through my social media and get a free book: https://linktr.ee/levelingupofficial
😎 Need to grow your business but don't know where to start? Request a free chat with a Growth Expert at Single Grain, my Digital Marketing Agency: https://www.singlegrain.com/marketing-plan/