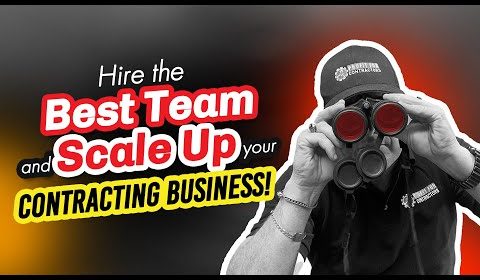 Hiring The Best Team to Scale Up Your Contracting Business | EP #131
Every business is unique.
BUT…
There are specific strategies that can bring you on top of your game—be it in hiring, creating a great working environment, and ultimately, generating more revenue.
Like most contractors and CEOs, our guest for today's episode, Nick Black, has also encountered several challenges as he ran his business.
But he became stronger than ever and made tremendous progress in different areas of his business.
And that's what we're going to hear about and learn from today!
Nick and I will discuss the techniques for building an A-team, strategies for writing job ads, knowing your numbers, and more!
Listen now, and you'll see success coming your way! 🤑🤑🤑
Chapters:
00:00 Intro
02:20 Nick Black and Cavetto Carpentry
04:23 Scaling your business through trust
06:08 Nick's struggles in business and how he overcame them
10:31 Keeping track and knowing your numbers
14:04 The journey to building an A-team
18:25 Why establishing the chain of command is essential
21:09 The structure you need to follow when hiring
26:02 Creating a winning environment for your team
28:58 Strategies in writing a compelling job ad
34:04 How social media can boost your business
36:51 The future waiting for Cavetto Carpentry
46:20 Sometimes, you need someone else to reach your business goals
Connect with us:
📌 Join our FB group (12600+ members)
https://www.facebook.com/groups/498934880541178/
📌 Follow us on Instagram ​​
https://www.instagram.com/profitforcontractors/
Full episode available to listen to on:
📌 Apple Podcast
https://podcasts.apple.com/us/podcast/the-profit-for-contractors-podcast/id1504320346
📌 Spotify:
https://anchor.fm/profitforcontractors