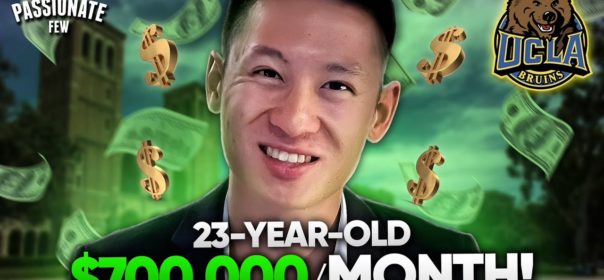 How A Broke 23-Year-Old Built A $700,000 Per Month Business!
✅ ONLINE COACHES – Wanna learn how to 2X your cash collected for your coaching business in the next 90 days? Here's How: https://www.impactclients.co/passioncoach
✅ BEGINNERS – Wanna learn how to make $5k-$10k per month from your phone?
FREE COURSE : https://www.impactclients.co/passion
Hey Guys! Enjoy this inspiring interview with Richard Yu as he shares with us his incredible story of going from a broke UCLA graduate to building a $700,000 per month business at age 23. His story is absolutely incredible as he shares with us how he failed at several entrepreneurial endeavors along his journey – including charging LIME scooters over night to make ends meet! You won't wanna miss this episode… especially if you'd like to learn how to turn teaching your passion into a business! ENJOY 🙂
________________________
FOLLOW OMAR AND RICHARD ON INSTAGRAM HERE:
📺 📲OMAR'S INSTAGRAM: https://www.instagram.com/Omar_TheRockstar
📺 📲RICHARD'S INSTAGRAM: https://www.instagram.com/richardyuzee
_______________________
#OnlineEntrepreneur
#SuccessStory
#Business
#Mindset
#Motivation
______________________
Affiliate Disclosure:
In compliance with the FTC guidelines, please assume the following about all links, posts,
photos and other material on this website: Any/all of the links on this website are affiliate links of which the channel receives a small
commission from sales, but the price is the same for you.