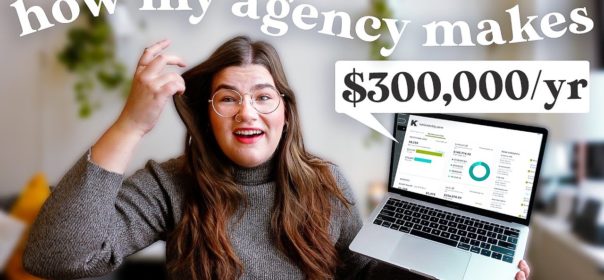 How I built a six-figure social media marketing agency
Try out Munch for yourself (and your clients!) for 30% off with my code "KT22" 👉🏻 https://app.getmunch.com/signup?utm_source=influencer&utm_medium=yt&utm_campaign=katie_v2 | In this video I'm telling the whole story of how I got started, and how I grew my boutique social media marketing agency into a six-figure business. I'll also be answering your tough questions: how much I pay my team members, how I do financial planning as a business owner, and how I find my clients. Let's get into it!
📕 TABLE OF CONTENTS 📕
00:00 I have a confession to make…
01:48 Chapter 1: How I got started with freelancing
05:15 How I built my client base, how I managed my money as a freelancer + more
07:51 Chapter 2: Making my first hire (aka becoming a team!)
09:55 In-house staff vs freelancers, how much I pay my team + more
13:11 Chapter 3: Scaling is scary
15:25 Transitioning from freelance to agency, learning financial planning as a business owner
17:45 Chapter 5: Finally finding work-life balance
🗺 Sign up for The Instagram Road Map 👉🏻 http://www.theinstagramroadmap.com ✨
Wanna work with me? Check out my creative agency https://www.creatorlymedia.com
Follow us on Instagram for social media strategy tips daily! ➡️ https://www.instagram.com/creatorlymedia
// WATCH THESE NEXT
⭐️ The Secret to More Likes on Instagram? [MY EXPERIMENT] https://geni.us/ESbAr
⭐️ Everything you need to know about TikTok: https://geni.us/nJWXLTq
⭐️ Don't start a podcast without watching this series: https://geni.us/Wplo
// FOLLOW ME ON INSTAGRAM
http://instagram.com/katiesteckly
// SOME OF MY FAVES:
*some of these are affiliate links, which means if you make a purchase on the site after clicking these links, I could earn a commission. thanks for supporting the channel!
🎧 where I get music for my videos: www.katiesteckly.com/artlist
💻 how I edit my videos: www.katiesteckly.com/adobe
📱how I grow my channel with Pinterest www.katiesteckly.com/tailwind
// GEAR
Camera: https://geni.us/LnPByIu
Lens: https://geni.us/Gw6rjif
Microphone: https://geni.us/00oT8aQ
Tripod: https://geni.us/kvmFbH
// ABOUT ME
Hey, I'm Katie! I make videos about social media strategy and content creation. In addition to being a YouTuber, I also run a small digital creative agency that produces content for all kinds of creators! We edit podcasts, produce YouTube channels, develop online branding and Instagram strategies and more! If you want our help or just want to learn more, check out https://www.creatorlymedia.com
—————————————-­——-