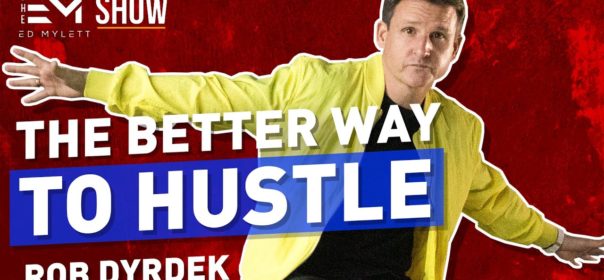 How to AVOID Your Next BURNOUT w Rob Dyrdek
This week is truly one of the most remarkable conversations of my lifetime.
"Life is about the pursuit of the PERFECT VERSION of yourself…but what happens when you reach that version?"
 
We all DREAM about what we think our lives should be, and some of us are fortunate enough to realize those dreams. But what's that JOURNEY like? And what happens when you get there?
 
This week, my good friend ROB DYRDEK and I are going to give you answers to those questions and a lot more.
 
Rob has grown far beyond the initial fame he enjoyed as a professional skateboarder.  Since that time, he's become a SERIAL ENTREPRENEUR, ACTOR, and PRODUCER who has been involved in dozens of projects over the years.
 
You'll learn how he has continually reinvented himself over the years using a unique philosophy that combines the VALUE of optimizing intentional TIME MANAGEMENT, finding JOY in every part of your life, and what he calls the RHYTHM OF EXISTENCE.
 
We're going to reveal a single tip on how to MANAGE MEETINGS that will save you hundreds of hours over a year…creating time better spent doing MORE IMPORTANT and LUCRATIVE things. 
 
Also, listen to Rob's take on how everything you do is INTERCONNECTED and why that matters so much. His insights on how to BUILD A BUSINESS using a system based on HARMONY are some of the best advice you'll ever hear. You'll gain a better understanding of why it's sometimes better to pass on deals when they don't fit the life you've designed for yourself.
 
Rob also offers some great ideas for building a BETTER RELATIONSHIP with your spouse and family members. It's BRILLIANT. It's EASY and it can improve the quality of your home life immeasurably.
 
There's so much to unpack in this hour that flies by.
Trust me, you won't want to skate past this one…
—-
CHAPTERS
0:00 Intro
2:41 Growing into the ideal version of yourself
5:54 The value of time
13:23 How Rob navigates his time
20:21 Lack of valuing time
24:43 Living up to one million hours
30:34 Systems for managing state of mind
36:33 How to use momentum
46:03 Creating systems for life
48:03 Dealing with people that drain your energy
54:16 Systems & strategies for setting goals
—-
Thank you for watching this video—Please Share it and get the word out!
What part of this video resonated with you the most? Comment below!
👇 SUBSCRIBE TO ED'S YOUTUBE CHANNEL NOW 👇
https://www.youtube.com/channel/UCIprGZAdzn3ZqgLmDuibYcw?sub_confirmation=1
—-
Let's MAXOUT! Send me a text message at 714-916-9144 to receive weekly updates when new episodes are available!
—-
→ → → CONNECT WITH ED MYLETT ON SOCIAL MEDIA: ← ← ←
→ → → CONNECT WITH ED MYLETT ON SOCIAL MEDIA: ← ← ←
▶︎ YOUTUBE | https://www.youtube.com/edmylett
▶︎ INSTAGRAM | https://www.instagram.com/edmylett
▶︎ FACEBOOK | https://www.facebook.com/EdMylettFanPage
▶︎ LINKEDIN | https://www.linkedin.com/Edmylett
▶︎ TWITTER | https://www.twitter.com/edmylett
▶︎ WEBSITE | https://www.EdMylett.com
—-
#EdMylett #Motivation