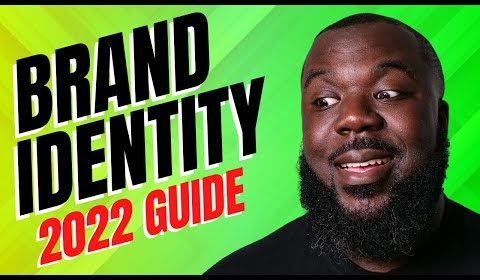 How to Build a Brand Identity for Your Business | The ULTIMATE Guide 2022
Learn how to build your brand identity for your business in this ultimate brand guide masterclass.
⭐️ Get Your FREE Branding Roadmap Guide Here: https://bit.ly/3MAD1I3
In this video learn from top to bottom what it took for brands like Nike, Apple, and even Pampers to build their brands into these huge impactful forces. Learn step by step in this ultimate brand identity guide how you can do the same for your business or next grand idea. I will teach you the 5 steps on how to build your brand a strong identity and the top 3 mistakes to avoid when branding.
Video Notes:
0:00 – Intro
0:35 – Brands I've Worked With
1:17 – What is Brand Identity?
2:02 – Examples of Brand Identity – Nike | Apple |Pampers
3:32 – Why Brand Identity Is SO Important?
3:59 – The 5 Components of a Well Develop Brand Identity
6:05 – The 5 Steps on How to Create a Brand Identity
6:19 – Step 1: Research Your Audience, Value Proposition, & Competition
10:57 – Step 2: Design the Logo & Templates for Your Brand
14:36 – FREE Branding Roadmap Guide ➡️ https://bit.ly/3MAD1I3⭐️
14:45 – Our Branding Agency – Eyenspire Pro Is here to Help!!! www.EyenspirePro.com
15:19 – Step 3: Integrate Language You Can Use to Connect, Advertise, & Embody on Social Media
16:33 – Brand Tone Example – Budget On Point ✅ Receive your 50% Off NOW your copy of 7 Steps to Stop Living Paycheck To Paycheck
➡️ ➡️ ➡️ HERE: www.budgetonpointwaitlist.com ⬅️ ⬅️ ⬅️
17:13 – Step 3 continued… How a strong brand identity can establish an emotional connection with your audience
19:19 – Step 4: Top 3 Mistakes to Avoid When Branding Your Business
20:58 – Step 5: Monitor Your Brand to Maintain Its Brand Identity
22:22 – We Can Help You Build Your Brand! 👉 www.EyenspirePro.com 👈
———————————–
Connect with Denis on Social Media:
Instagram: https://www.instagram.com/bydenisboat…
Tiktok: https://www.tiktok.com/@branditlikeapro
———————————–
❓QUESTIONS — Have a question about Branding? Post in comments section of this video!
———————————–
Subscribe to Brand It Like A Pro Here: https://www.youtube.com/channel/UCBu-…
———————————–
If you are in need of branding or a logo for your next idea or business, reach out to our Branding and Marketing Agency – Eyenspire Pro at eyenspirepro.com.
Services Provided:
➕ Branding + Identity
➕ Graphic Design
➕ Social Media Management
➕ Web Design
➕ Video Production
➕ Photography
Brands we've worked with:
✔️ Yellowbrick
✔️ Fashion Institute of Technology
✔️ Parsons
✔️ Rolls-Royce
✔️ NYU
✔️ Kicks to the Pitch
✔️ Finishline
✔️ New Balance
✔️ Complex
+ MORE
Work with us today! Contact us on eyenspirepro.com!
#Branding101 #brandidentity #businessbranding