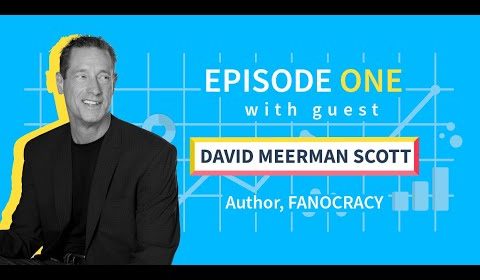 How To Grow A Community Of Real Fans Of Your Business – Masters of Metrics Podcast
Marketing and sales visionary David Meerman Scott, author of WSJ bestseller 'Fanocracy', says online marketing has become superficial and chaotic. There's a kinder, gentler way to do business, and it pays off for business growth and strategy.
Hear David's super practical tips on building a tribe of fans and generating interest among your buyers.
Listen to the podcast on our website: https://digivizer.com/blog/masters-of-metrics-david-meerman-scott-fanocracy/
If you're new here, discover how Digivizer delivers affordable, usable real-time insights. Read more about us here: https://digivizer.com/ . Or get stuck in with our Digivizer Free Plan and feel the difference: https://digivizer.com/pricing/
Want to know more about our platform updates? For information on how to use Digivizer's features, check out our help centre: https://help.digivizer.com/en/
Follow us on:
Instagram: https://instagram.com/digivizer
Facebook: https://facebook.com/digivizer
LinkedIn: https://www.linkedin.com/company/digivizer
Twitter: https://twitter.com/digivizer
Youtube: https://www.youtube.com/digivizer
TikTok: https://www.tiktok.com/@digivizer