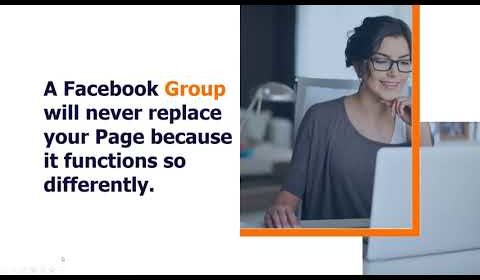 How to Grow Your Organic Reach on Facebook and Instagram by Neda
Facebook organic reach is down. Way down. However, a Strong Facebook (Instagram) Organic Strategy Is Still Important for the growth of your small business.
Despite its recent decline, organic content remains an important part of building a strong social media presence on Facebook and Instagram.
It's a critical way for small business owners to build brands, communities, earn trust, and find fans that will help their business succeed.
That being said, Facebook's organic reach isn't easy. It takes a lot of time, experimentation, and know-how to get the word out about your brand.
Join me live to learn How to Develop an effective Organic Strategy on Facebook (Instagram)
In this workshop you will learn;
1. The backbone of organic strategy
2. Increase your reach on Facebook with engaging content
3. Measuring the success of your content
4. Using Facebook Groups as part of your organic strategy
5. Measuring the success of your group
This workshop is brought to you by Business Station and AusIndustry under the Digital Solutions Program.
ABOUT PRESENTER
Neda has 20 years of extensive experience in business and entrepreneurship, sales and marketing, growth strategy, operations management, project management, team leadership, asset management in Public-Private Partnership contracts, and customer service.
She built and sold 2 businesses of her own and worked with small, medium, and large businesses in industries. In her business journey, she has had a lot of successes and experienced a lot of mistakes along the way. This is the reason she's passionate about helping businesses to make sure they don't repeat the mistakes other leaders and herself made.
Neda helps businesses with:
Marketing and Advertising Strategy (online and off-line)
Facebook, Instagram, and LinkedIn Advertising
Business and Personal Branding
Customer Journey Mapping
Sales and Marketing Funnel
Lead Generation
Creating Offers
Sales and Conversion process
Client Nurture
Business and Leadership Coaching
Squarespace website design and development
#smallbusinessfacebookmarketing #facebookmarketingtips #facebookcontentmarketing #instagrammarketingtips #organicmarketing
About Digital Solutions – Australian Small Business Advisory Services
The Digital Solutions program is built to help small business owners develop their digital marketing skills, from social media to building a better website, making online sales, creating Google and Facebook Ads, and more. All with the advisory and guidance of experienced industry experts who keep you on the right track and help you learn with step-by-step support and check-ins.
In almost four years we've helped over 15,000 small businesses in QLD, WA and NT to become more confident with digital marketing. With generous support and sponsorship from the Australian Government, you can access over $1,000 value in business advisory, training and online resources for only $44.
At this event, we'll discuss how our program works and how we can help you to build a more resilient business.
Important – Participating businesses must be aware that this information will be provided to the Commonwealth Department of Industry, Science, Energy and Resources for program evaluation and reporting purposes; and businesses may be approached by a representative from the Department to complete a survey on the services provided.