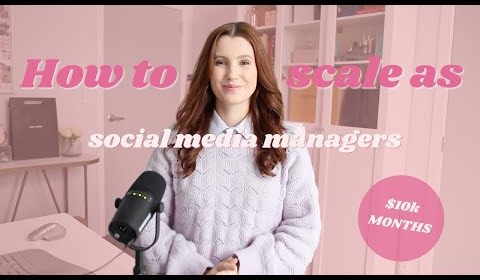 How to Make $10k Months as a Social Media Manager 🎙 Scaling Your Online Business 💥
Today is a video episode of Ellen's podcast, Dishing up Digital! She's share 10 steps to scaling your social media business to $10k months. From outsourcing and hiring help to raising your prices and productizing your services, this episode has plenty of helpful tips.
00:00 – Intro
02:00 – Increasing your prices
03:41 – Productising your services & selling packages
05:56 – Offering more strategy & coaching
08:12 – Hiring help/outsourcing
09:03 – Organisation & updating your systems
11:22 – Invest & up-skill in your biz
13:43 – Carve out time for your own biz
14:58 – Multiple revenue streams
17:48 – Mindset & confidence
20:31 – Don't forget about your mental & physical health
Check out the mastermind mentioned: https://www.ellenmackenzie.com/scaleonsocial
xx
Ellen and Tara
————————————————————————–
//LINKS//
Instagram:
https://www.instagram.com/ellenmackenziee
http://www.instagram.com/tardaeda
Tiktok:
https://www.tiktok.com/@ellenmackenzieee
https://www.tiktok.com/@tardaeda
FREE GUIDE:
How to become a social media manager: https://www.ellenmackenzie.com/freebie
Ellen's business: https://www.ellenmackenzie.com/
Ellen's coaching program: https://www.dishingupdigitalschool.com/
DISCLAIMER: This video is not sponsored.