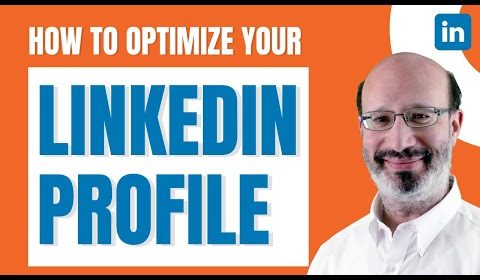 How to Optimize Your LinkedIn Profile
In this video, you'll learn how to optimize your LinkedIn profile. This includes B2B social media strategy, brand marketing, LinkedIn best practices, LinkedIn lead generation, LinkedIn mistakes, LinkedIn strategies, and LinkedIn social selling.
Best practices from Joshua Feinberg, a B2B go-to-market strategist with 14+ years of experience optimizing LinkedIn profiles — and that's content, sales enablement, and social media marketing certified by HubSpot Academy.
Connect on LinkedIn with Joshua Feinberg from SP Home Run
https://www.linkedin.com/in/joshuafeinbergconsulting
Follow Joshua Feinberg on Twitter
Tweets by joshua_feinberg
Follow SP Home Run on LinkedIn
https://www.linkedin.com/company/sp-home-run-inc-/
Follow the B2B Digitized Podcast on LinkedIn
https://www.linkedin.com/showcase/b2b-digitized-podcast/
Contents
0:00 How to Optimize Your LinkedIn Profile
0:25 3 LinkedIn Strategies for Growing IT Businesses
5:33 LinkedIn Lead Generation — Are You Trying to Build Your Brand or Destroy It?
12:46 B2B Social Media Strategy (Getting Started)
17:09 5 Ways to Attract Customers with B2B Social Media
20:01 4 LinkedIn Best Practices for IaaS, SaaS, and Fintech
24:03 B2B Social Media Marketing for Mid-Market and Enterprise Tech
29:42 Brand Marketing Strategy for B2B Technology
32:30 The 6 LinkedIn Mistakes That Make You Look Bad
42:15 Brand-Building Strategies for B2B Fintech
44:55 LinkedIn Social Selling Workshop
2:08:03 Subscribe to this channel and ring the bell
Be sure to Like this video, Subscribe to this channel, and Ring the Bell to get notified when new content similar to this is released.
#LinkedIn #LinkedInprofile #B2Bsocialmedia #brandmarketing #LinkedInbestpractices #LinkedInleadgeneration #LinkedInmistakes #LinkedInstrategy #LinkedInsocialselling #sphomerun