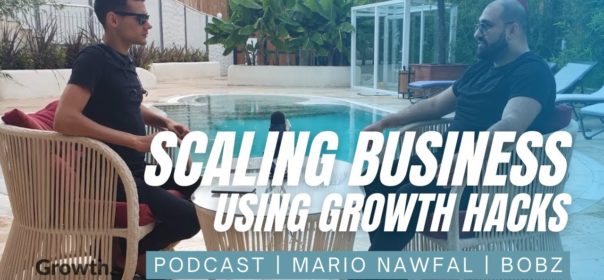 How to Scale Your Business in 2022? | Growth Hacking Strategies
How to Scale Your Business?
One of the major problems entrepreneurs face is scaling a business when it gets stuck on a certain level. It can become frustrating when you have such excellent services/products to offer, yet you are not getting the attention you deserve or not generating enough sales.
In this episode of We Are Growth Hackers, Mario Nawfal and Bobz talk about the strategies used in Scaling businesses, how they can be applied to your niche and how you can use these strategies to reach incredible milestones.
Chapters:
What are Growth Hackers Good at?: (0:00)
Make A Video: (0:44)
Creating a Machine: (1:51)
Feedback Loop: (3:25)
Scaling doesn't Always work: (4:08)
**********
𝙒𝙖𝙣𝙩 𝙩𝙤 𝙨𝙚𝙚 𝙢𝙤𝙧𝙚 𝙘𝙤𝙣𝙩𝙚𝙣𝙩 𝙡𝙞𝙠𝙚 𝙩𝙝𝙞𝙨…?
👍 Like the video. So we can pump out more content like this.
💬 Comment if you made it till the end!
🔗 Share the video with anyone you think it might help 🙂
**********
𝙒𝙚 𝙥𝙤𝙨𝙩 𝙚𝙭𝙘𝙡𝙪𝙨𝙞𝙫𝙚 𝙬𝙚𝙚𝙠𝙡𝙮 𝙜𝙧𝙤𝙬𝙩𝙝 𝙝𝙖𝙘𝙠𝙨 𝙤𝙣 𝙤𝙪𝙧 𝙒𝙝𝙖𝙩𝙨𝘼𝙥𝙥 𝙜𝙧𝙤𝙪𝙥.
👉 Join here: https://rebrand.ly/WAGH
**********
𝙁𝙤𝙧 𝙖 𝙛𝙧𝙚𝙚 15 𝙢𝙞𝙣 𝙂𝙧𝙤𝙬𝙩𝙝 𝙃𝙖𝙘𝙠𝙞𝙣𝙜 𝙘𝙤𝙣𝙨𝙪𝙡𝙩𝙖𝙩𝙞𝙤𝙣 𝙘𝙖𝙡𝙡 𝙫𝙞𝙨𝙞𝙩:
🌎https://www.wearegrowthhackers.com (WAGH)
**********
Who is Mario Nawfal? (𝘾𝙤-𝙁𝙤𝙪𝙣𝙙𝙚𝙧 𝙤𝙛 𝙒𝘼𝙂𝙃)
Founder of the Athena Group of Companies, a business conglomerate that operates in more than 40 countries. Mario had embarked upon his entrepreneurial path, with $300 in the bank, selling blenders door to door which led to Froothie Australia. Through unconventional marketing techniques, efficient logistical systems, and a team of global contractors, he propelled Froothie to $1m in year one and over $10m in year two, all bootstrapped.
**********
Who is Bob Wazne? (𝘾𝙤-𝙁𝙤𝙪𝙣𝙙𝙚𝙧 𝙤𝙛 𝙒𝘼𝙂𝙃)
Started his entrepreneurial journey at the age of 16, founded his first company when he hit 20. Bob is specialized in launching businesses and applying growth techniques to scale them up.
On the other hand, Bob loves creating connections with people and guiding them whenever they need it through his acquired life coaching skills & techniques. Bob is a badass salsa dancer.
Favorite Quote: " The best way out, is through it! "
**********
LET'S CONNECT!
🤙Whatsapp: https://wa.me/61402007665
📘Facebook: https://www.facebook.com/wearegrowthhackersdotcom
📸Instagram: https://www.instagram.com/wearegrowthhackersdotcom/
📻LinkedIn: https://www.linkedin.com/in/mario-nawfal/
📻LinkedIn: https://www.linkedin.com/in/bobwazneh
📧Email: bob@wearegrowthhackers.com
**********
All materials in these videos are used for educational purposes and fall within the guidelines of fair use. No copyright infringement is intended. If you are or represent the copyright owner of materials used in this video and have a problem with the use of said material, please contact us via email.