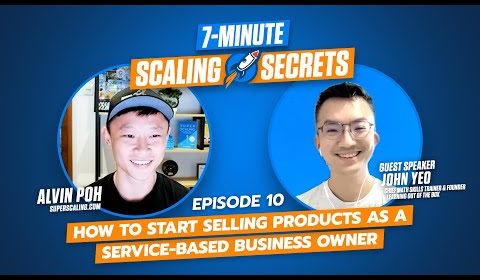 How to Start Selling Products as a Service-Based Business Owner | Ep. 10
Curious about how to start selling products as a service based business? First things first, Selling products is quickly becoming the new way to go. The idea is simple: you'll be providing your customers with exactly what they need, when they need it, at a price they can afford.
The best part is… no one knows your customer better than you do. This means that you're the best person to provide them with products that they actually need to make the most progress they possibly can.
Today, John Yeo (Chief Math Skills Trainer and Founder of Learning Out Of The Box) (https://www.learningoutofthebox.org/) talks about the specific steps you need to take to start selling products as a service.
We also talk about:
– How This Service Based Business Creates 1 New Product A Month
– The Power Of Trusting Your Team To Come Up With Product Ideas
– The Brainstorming Method In Order To Achieve Optimal Learning
Connect with John Yeo:
Instagram: https://www.instagram.com/johnyeojr/
Facebook: https://www.facebook.com/johnyeojr
Linkedin: https://www.linkedin.com/in/johnyeojr/
Ebook Download: https://bit.ly/5pebook-lp
You can also watch the full episodes on Spotify and Podbean! Check them out here:
Spotify: https://open.spotify.com/show/0mJOvWw14GBUeeMifjXDSu?si
PodBean: https://scalingsecrets.podbean.com/
___________________________
📱 Let's connect on social media!
Instagram | https://www.instagram.com/alvinpohofficial
Facebook | https://www.facebook.com/alvinp
LinkedIn | https://sg.linkedin.com/in/alvinpoh
Tiktok | https://www.tiktok.com/@alvinpohofficial
Twitter | https://www.twitter.com/lvinpoh
___________________________
Also: when you're ready, here are 2 ways I can help you…
📘 Get the best-selling Super Scaling book
Learn how to Super Scale your business using a proven methodology:
🚀 Join Super Scaling Ignite
Super Scale your business together with a community of other driven entrepreneurs. Doors are still open (but not for long).
Sign up now to secure your spot: https://superscaling.com/ignite/
___________________________
🔥 FREE RESOURCES
FREE TRAINING: Learn How To Retain Talent and Maximise Their Productivity In Order To Scale Your Business Together As A Team
FREE TRAINING: Learn How To Drive Team Performance and Retention
FREE TRAINING: Learn How To Delegate Effectively With The DIET Method
Download your Super Scaling Rules for Creating a World-Class Team in Your 6- or 7-Figure Business:
Download your Ultimate Guide to Building Kick-ass SOPs:
Download your Ideal Work Environment Checklist Guide:
___________________________
👨‍💻 ABOUT ME
At the age of 33 years old, I sold my Internet business for $30 million.
This was the business that I scaled up from $0 all the way to Singapore's #1 hosting provider with 35,000 clients and a team of 150 before the 8-figure exit.
I spent the next few years traveling the world, exploring new hobbies like snowboarding, kite-surfing and many more.
Today, I use my skills and experiences to help entrepreneurs, just like myself, scale their businesses, achieve breakthrough profits and find time freedom.