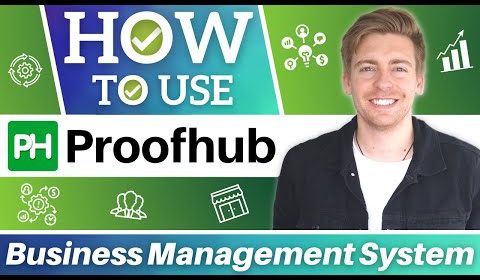 How To Use ProofHub | All-In-One Business Management System for Small Business
Today, I dive into a complete ProofHub tutorial for beginners looking to get started with ProofHub.
ProofHub is an all-in-one project management, collaboration and communication platform for SMEs.
This ProofHub tutorial covers all the essential features that you need to know in order to quickly get started and use the premium features that ProofHub offers.
This video will also help you identify if ProofHub is the right solution for your business.
► Today we navigate through the below chapters for this ProofHub tutorial:
0:00 Intro
01:16 Getting started
01:30 Pricing
04:42 ProofHub account
05:32 Home dashboard & navigation
09:38 Projects
10:11 Project overview
10:49 Discussions
11:31 Tasks & task lists
16:04 Gantt & Calendar
16:14 Notes
16:28 Files & approval process
17:08 Time tracking
17:44 Reports
18:01 People
19:38 Integrations
20:34 Outro
► Are you interested in joining our small business community?
Join us to receive actionable tips, tutorials and tools to grow your small business online (Subscribe to our email list) or join our exclusive community here: https://mailchi.mp/71ac3fcdbfdf/stewart-gauld
Let me know if you found this ProofHub tutorial helpful. Also, if you require any help or support, make sure to get in touch with us today.
Thanks for watching and enjoy!
#proofhub #businessmanagement