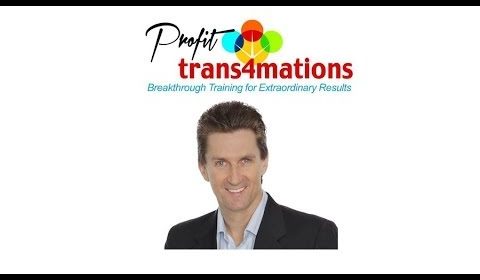 Increase Your Profits | Small Business Management | Free Book Marketing Strategies
https://www.profittrans4mations.com.au/ – business management. This video is on how to increase profits and zero cost to implement strategies to grow your business with little known marketing strategies.
Attend our FREE Training Masterclass on 5 Steps Our Clients Used to Double Their Business Profits: https://www.profittrans4mations.com.au/free-content/free-business-webinars/
Every business has dozens of strategies to increase profits, and most of them are free.
That's the result of researching and applying hundreds of strategies for over 27 years with 1,000+ businesses and measuring the results of every single strategy that has been applied.
This video is all for all small to medium enterprise business owners. It is relevant too all businesses from start-up to 50 employees.
Your business has massive potential for increasing profits, and the book mentioned in this video is a great starting point to begin, and its FREE!
Marketing strategies, advertising and marketing, business marketing strategies, business development, business development strategies, small business development, business development company, business growth, business growth strategies, business strategies, small business management, grow my business, marketing strategy, how to grow your business.
https://facebook.com/profittrans4mations for free tips and posts.
https://twitter.com/tim4freedom for tweets
https://youtube.com/businessfreedom7 – for videos and Profit Transform ations YouTube channel.
Business management is not about industry skills or knowledge, it's about pure business skills. A person with excellent business acumen would make any business profitable. Business acumen is about being able to manage a business and being able to solve the business's management and growth challenges, to do with cash flow, employees, lead generation, competitors, pricing at ideal profit margins, converting inquiries into sales at an optimal conversion rate.
McDonalds optimized 3 core skills relating to business acumen, people, systems and measuring. Focus on these 3 skills to improve with business acumen training. If you want to obtain a full skills set of business acumen, check out our company website — http://profittrans4mations.com for a free 7 part video course or to attend our 7 month intensive, online, live training course.
Developing your small business management skills will give you greater profit margins, more time, less stress and less frustration about owning your own business.
The 3 core skills of business acumen can be further broken down into sub-skill sets. All these are outlined on our blog – https://profittrans4mations.com.au/blog
SUBSCRIBE for more FREE content every week!
TAGS
small business management, how to increase profits, small business course online, types of marketing, Increase profit, business development training, management training, Small business marketing, Tim Stokes, small business management training, increase your profits, online business courses
-~-~~-~~~-~~-~-
Please watch: "Business Management Made Easy to Increase Profits Rapidly & for FREE | Business Course Online"

-~-~~-~~~-~~-~-