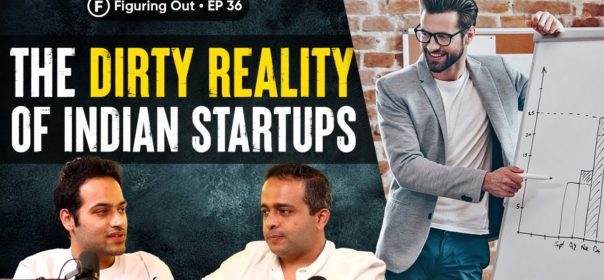 INDIAN STARTUPS Are A SCAM? | VC Funding & Leadership Skills By @Rajiv Talreja | Figuring Out EP 36
In today's Episode of Figuring out With Raj, we have Rajeev Talreja. He is India's Leading Business Coach and is the author of the International Bestseller and Amazon Bestseller book titled – "Lead or Bleed".
He has been a serial entrepreneur and a business coach for over a decade and is well known for the exponential growth he has created for over 5000 business owners.
Rajiv began his career fresh out of college with Quantum Leap Learning Solutions. The company focused on building leaders, teams and helping companies grow and evolve their business strategies.
Post its success, Rajiv started his next venture, Quantum Leap Off Shore Solutions, which outsourced project management; however, the company shut shop after a year. He also started a recruitment consulting firm in 2009, and an event management firm, Dreamcraft Events & Entertainment Private Limited that same year.
In this video we have discussed the complete step by step process to build a business from scratch. We have also discussed the top mistakes made by most of the entrepreneurs.
Rajeev has also shared his insights on how to make a business profitable. If you are interested in startups this episode is a must watch for you.
Watch the full episode for a comprehensive discussion on how to build a business and make it profitable.
00:00 – Introduction
00:40 – How to scale a business?
09:41 – How to build a team for your business?
14:48 – Is it a good idea to hire a team just after receiving funding?
24:00 – Why VC's put their money in loss making startups?
29:05 – Why is business culture deteriorating in India?
32:08 – Steps to build a startup?
38:08 – How did Rajeev learn all of this?
41:56 – Top 3 Mistakes Rajeev made in his 20s
46:47 – One hobby recommendation
47:37 – Biggest mistake we all made as a society
50:08 – Next Big Billion Dollar Industry?
59:09 – Conclusion
Subscribe to the channel: http://bit.ly/RajShamaniYT
Enjoyed watching this video? Check out these too:
Making Money in Your 20s: https://youtu.be/RSeXGH2kxdo
How I Invest My Money: https://youtu.be/b0cD5CQVeXM
How to Start Earning in College: https://youtu.be/NVtP0_3MUzQ
How I Started Making Money: https://youtu.be/Mv4Xh9eoCXw
Kunal Shah on Startups, Indian Billionaires and Credit Cards: https://youtu.be/sU0f5GLJMHE
Follow me and my content on other social media handles:
Instagram: https://www.instagram.com/rajshamani/​
LinkedIn: https://www.linkedin.com/in/rajshamani/​
Twitter: https://twitter.com/rajshamani​
Facebook: https://www.facebook.com/shamaniraj
#rajeevtalreja #figuringout #rajshamani
Raj Shamani is a business content creator, an entrepreneur, an investor, and a renowned keynote speaker. He is a businessman at heart.
Raj helps businesses and startups become recognized brands and influential leaders through various marketing and business tactics. He is the driving force behind several top brands' 360-degree brand-building approach.
Besides, Raj is also an active angel investor and is particularly interested in crazy minds who are creating a sensation in the Fintech, FMCG, and passion economy space.