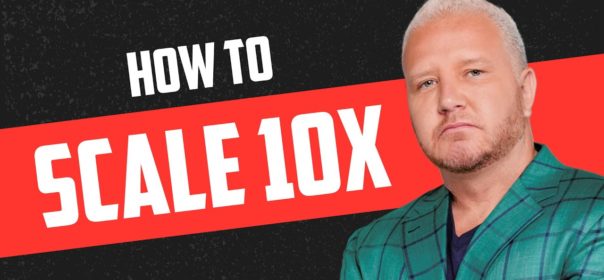 #Interview: Scaling a Billion Dollar Company | Jayson Waller The SCALEit Method® with Allison Maslan
Running a company with over 2,000 employees might sound difficult, but Jayson breaks it down into bite sized goals that keeps him and his team pointed towards one vision.
Today on the show we're replaying Jayson's interview he did with Allison Maslan on the Scale It Method podcast! Jayson talks about how he first got into the solar industry, where he learned to become a serial entrepreneur, and how we can keep ourselves and our team moving forward!
Highlights:
02:53 – How Jayson's tough upbringing contributed to his entrepreneurial spirit
05:44 – Why we need to continue to stack wins even when we get comfortable
08:25 – Jayson first steps into the solar industry
12:57 – The importance of sales when starting a business
18:16 – How to grow a great team with different perspectives
24:00 – Navigating the work from home culture
25:49 – Why hiring great leaders is so important for your business
28:46 – Why everyone should be aligned with the same vision
32:54 – How setting smaller goals can lead to long term success
33:56 – Jayson's struggles in the first few years with a solar company
35:57 – The secret to scale a billion dollar company
And much more…
Follow True Underdog and Jayson Waller on your favorite social media channels and digital podcast platforms: https://linktr.ee/trueunderdog
————————————–
GET A COPY OF OWN YOUR POWER – AN AMAZON'S NUMBER 1 BOOK RELEASE!
Immerse yourself with 8 key life-changing principles, worksheets to create your own map, and how to reach another level of your game!
It's all Real Life Stories! It's You vs You!
Warning: This book is not suitable for pessimists, excuse-makers, and haters!
SPONSORS:
PINK ENERGY is the leading solar energy company installing solar panels and solar power for homes.
Looking for a job in the Energy Industry Serving Communities? Join the solar movement! www.Powerhome.com/careers
Social‌ ‌Media:‌
Check out Jayson's website: https://www.jaysonwaller.com/ ‌
Follow True Underdog and Jayson Waller on your favorite social media channels and digital podcast platforms: https://linktr.ee/trueunderdog
True Underdog is a Top 3 Entrepreneurship podcast on Apple hosted by Jayson Waller, CEO of Pink Energy, one of the fastest-growing private companies in the USA, and his high-profile guests share motivational tips, inspiring stories, and business-building lessons to help each listener grow in their entrepreneurial journey.
Reach‌ ‌out‌ ‌to‌ ‌Jayson‌ ‌directly‌ ‌at:‌ ‌ Jayson@trueunderdog.com‌ ‌
Guest Social Handles / Links In The Episode:
Website: https://jaysonwaller.com/
LinkedIn: https://www.linkedin.com/in/jayson-waller-/
Instagram: https://www.instagram.com/jaysonwallerbam/?hl=en
Twitter: https://twitter.com/JaysonWaller?s=20&t=EkV2KDD3i58PV_xxuYqFTg
Facebook: https://www.facebook.com/JaysonWallerBAM
Head over to https://www.scalemasterclass.com/podcast to secure your FREE seat to Allison's SCALEit Method today, to learn how to scale your business to 8 figures and beyond.
#trueunderdog #trueunderdogpodcast #jaysonwaller