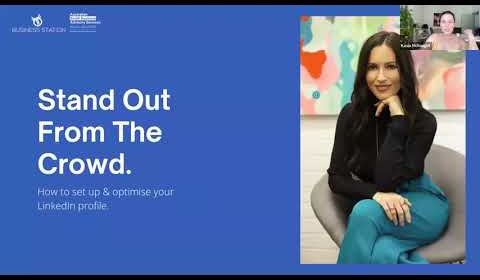 Introduction to LinkedIn by Kasia
Level: Beginner
Learn how to optimise your personal profile so that you can stand out from the crowd, and learn how to create a company page for success.
In this workshop we will cover:
Why it is important to have a strong LinkedIn presence for your personal and professional brand
How to set up and optimise your personal profile
How to add new connections in the right way to expand your professional network
How to set up and maximise your company page
Coming up with a content plan
Growing your personal brand through the platform to become an industry leader
This workshop is brought to you by Business Station and AusIndustry under the ASBAS Digital Solutions Program.
ABOUT THE PRESENTER
Kasia McNaught is a passionate digital marketing and communications consultant with over 15 years of experience working with businesses across digital, traditional and outdoor media.
Kasia is a proud small business owner and founded McNaught Media in 2016, a boutique digital marketing consultancy specialising in social media marketing, content creation and public relations.
She has consulted with hundreds of business owners to help them improve their online presence through organic and paid marketing strategies.
Qualifications: Bachelor of Arts, UWA 2006
#linkedin #linkedinmarketing #socialmediamarketing
About Digital Solutions – Australian Small Business Advisory Services
The Digital Solutions program is built to help small business owners develop their digital marketing skills, from social media to building a better website, making online sales, creating Google and Facebook Ads, and more. All with the advisory and guidance of experienced industry experts who keep you on the right track and help you learn with step-by-step support and check-ins.
In almost four years we've helped over 15,000 small businesses in QLD, WA and NT to become more confident with digital marketing. With generous support and sponsorship from the Australian Government, you can access over $1,000 value in business advisory, training and online resources for only $44.
At this event, we'll discuss how our program works and how we can help you to build a more resilient business.
Important – Participating businesses must be aware that this information will be provided to the Commonwealth Department of Industry, Science, Energy and Resources for program evaluation and reporting purposes; and businesses may be approached by a representative from the Department to complete a survey on the services provided.