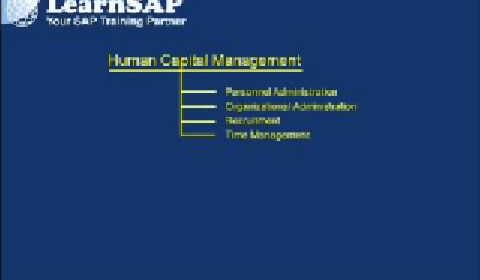 Introduction to SAP HR – SAP Human Capital Management Configuration | SAP HR Overview ( Part 1 )
http://www.learnsap.com/config/hr.html
What is the SAP Human Capital Management – Human Resources Module?
Modules and sub-modules of SAP Human Capital Management.
How to configure the SAP Human Capital Management's following Sub Modules-
-Personnel Administration
-Organizational Administration
-Recruitment
-Time Management
-Payroll, Benefits
-Compensation Management
-Personnel Cost Planning
-Budget Management
-Personnel Development
-Training and Event Management
-Travel Management.
This series of video training is designed to help members of the HR team to oversee and utilize SAP HR Module, not only as a collection of tools but also as a single platform for monitoring, managing, and analyzing an organization's Human Resources.
SAP's flagship software R/3 / ECC made up of three major areas –
– Financial Accounting
– Logistics
– Human Capital Management
SAP HR is now called Human Capital Management module. LearnSAP.com has prepared this video to help you understand the structure of this awesome module and how the several sub-modules integrate with each other.
Part 2 of this video explains the topics we teach in LearnSAP and what topics are left out in SAP HR / HCM module.
Click http://www.learnsap.com/config/hr.html for SAP HR Training Details.
SAP HR Overview Part 2: https://www.youtube.com/watch?v=9BJ9S-3_yMg
More SAP Training Courses: http://www.learnsap.com/courses.php
#saptraining #onlinesap #sapeducation
#sapmodules #sapcourses #sapjobs #learnsap #sapstepbystep #learn_sap #saphr #saphcm #sappayroll #saphumanresources #saphrtutorials
LearnSAP
1927, CR 129 Pearland, TX 77581
+1 832-419-7371
Website : http://www.learnsap.com
Email : info@LearnSAP.com