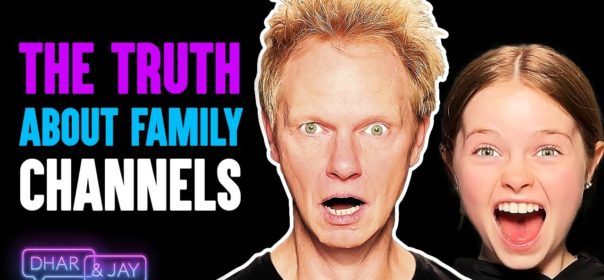 Jordan Matter Shares YOUTUBE SUCCESS SECRETS and Being a Model Parent | Dhar and Jay Podcast Show
This episode is sponsored by BetterHelp: Learn more and save 10% off your first month at https://www.betterhelp.com/dharandjay
💥 Don't forget to SUBSCRIBE to our channel by clicking here ➞ ➞ https://www.youtube.com/channel/UCZJ6W3jjqfbEzv6q6vR11Kg?sub_confirmation=1 **Make sure you CLICK THE BELL ICON so you can get notifications when our next video goes up so you don't miss anything!
★ NEW VIDEOS WEDNESDAYS at 4pm (PST) ★
In today's episode, professional photographer turned YouTuber, Jordan Matter, accompanied by his kids Salish and Hudson, join Dhar and Jay to talk about his journey in photography and how he transitioned into posting videos online, missing out on important family moments because of work, working with his children to create content, and the boundaries he sets to not pressure on them while still producing quality content. This is an interview filled with giggles and fun stories and a lot more thoughtful insights in making a name for yourself online.
FOLLOW DHAR:
INSTAGRAM: https://www.instagram.com/dhar.mann/
TWITTER: https://twitter.com/dharmann
YOUTUBE: https://www.youtube.com/channel/UC_hK9fOxyy_TM8FJGXIyG8Q
FOLLOW JAY:
INSTAGRAM: https://www.instagram.com/jayshetty/
TWITTER: https://mobile.twitter.com/jayshetty
FACEBOOK: https://www.facebook.com/JayShettyIW
YOUTUBE: https://www.youtube.com/channel/UCbV60AGIHKz2xIGvbk0LLvg
TIMESTAMPS:
00:00 Intro
00:50 Passion for photography
03:03 How do you make a quick life long?
06:25 Turning passion into a career
09:56 Starting on YouTube
14:04 Missing special moments with family
18:57 Family-focused vlogs
23:27 Being interviewed by someone who inspires you
27:39 Not putting pressure on kids
33:58 Living the moment versus life documentation
37:52 Collaboration with influencers
43:38 Do you have a personal connection with the audience