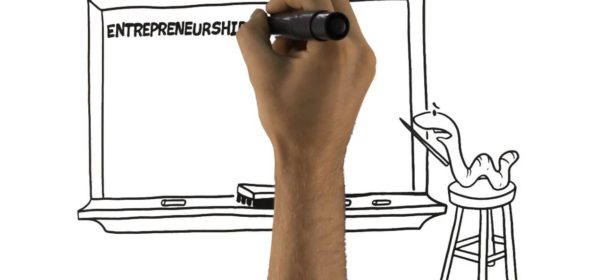 "Kauffman Sketchbook feat. Gary Schoeniger "Entrepreneurial Mindset" – 321 FastDraw
(ENGLISH VERSION)
We created this FastDraw for the Ewing Marion Kauffman Foundation "Sketchbook" Series. Gary Schoeniger, creator of the Ice House Entrepreneurship Program, helps explain the challenge of finding a curriculum appropriate and beneficial for Entrepreneurs.
———-
I'm Gary Schoeniger. I'm the founder of the Entrepreneurial Learning Initiative. We're the creators of the Ice House Entrepreneurship program.
We all know that entrepreneurship education has never been more important than it is today. And yet, the subject of entrepreneurship is still not well understood, and consequently, much of our efforts to teach entrepreneurship are limited in terms of efficacy, scalability, and scope. In the past, we ignored entrepreneurs. They were looked upon as mavericks or fringe players who bucked the system. Today, they have become the engines that are now driving our economies. And yet, while we know a lot about the inner workings of large, established companies, and small business management, the entrepreneurial process is still widely misunderstood.
Much of our efforts are over-influenced by the Silicon Valley narrative, which often leads to a plan and pitch approach where students are encouraged to develop new technologies, conduct market research, write business plans, and present their ideas to potential investors. Yet what many don't realize is that very few businesses actually start this way. In fact, far less than one percent of all new ventures created in the U.S. each year receive venture capital investment at their inception. So while these elite Silicon Valley success stories may capture headlines, they do not accurately reflect the process that most entrepreneurs undertake.
Others fail to distinguish between entrepreneurship and small business management. They tend to approach a startup as if it were simply a smaller version of a large corporation. They encourage students to learn business management skills such as marketing and finance, accounting and legal structures—skills that are important for managing an existing business, yet skills that are not all that helpful when it comes to identifying and evaluating new opportunities.
The truth is entrepreneurship is not management, and neither of these approaches accurately portrays the process that entrepreneurs typically undertake. In fact, when we began to look at the research, a very different picture began to emerge. We found that the carefully planned, venture-backed startups are by far the exception rather than the rule. We found that even large, established companies have humble improvised origins. And even entrepreneurs like Sam Walton and Bill Gates initially set out in pursuit of highly uncertain, niche opportunities with very limited resources. We also found that entrepreneurs are not likely to be experts with years of experience in their chosen field. In fact, many have no experience at all, and yet somehow, they manage to succeed.
The real question is, how? How are they able to identify and evaluate opportunities that others overlook? What is the mindset and the process that ultimately enables them to succeed? We couldn't find a curriculum that adequately addressed these critical questions. That's why we created the Ice House Entrepreneurship program. We wanted to design a program that would inspire and engage a broad range of students from a wide variety of backgrounds, disciplines, and interests. We wanted to develop an experiential problem-based approach that would immerse students in real world, resource-constrained circumstances that will help them develop critical thinking, communication, effective problem-solving, and other key entrepreneurial skills. And, we wanted to create a scalable program, one that would not require the instructor to become an expert in the field of entrepreneurship.
At the end of the day, entrepreneurship is more than an academic discipline. It's really a mindset. It provides a framework for thinking and acting that can empower anyone to succeed. And in today's world, it's a mindset that every student needs.
For more info, please visit http://www.321fastdraw.com/
Follow us on Facebook: http://www.facebook.com/321fastdraw
Follow us on Twitter: http://www.twitter.com/321fastdraw
Follow us on Google+: http://gplus.to/321fastdraw