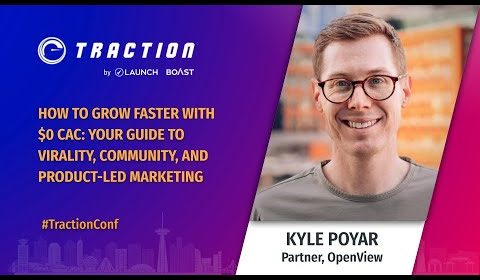 Kyle Poyar, OpenView – How to Grow Faster with $0 CAC: Your Guide to Virality, Community, and PLG
Viral products not only sell themselves, but they market themselves too. The fastest-growing companies generate 2x as many new sign-ups from product referrals compared to everyone else. Even if your product isn't inherently viral, it pays to make customer-assisted marketing a pillar in your growth strategy. Learn how to grow faster with $0 CAC and get inspired by real-life examples from leaders like Calendly, Loom, Notion, and Webflow with Kyle Poyar, Partner at OpenView.
Traction Conf 2022 is Presented By
https://boast.ai – helps companies get R&D tax credits and innovation funding to fuel their growth.
https://launchacademy.ca – premier incubator that helps international entrepreneurs launch, fund, and grow their startups. +6,000 entrepreneurs supported, over $2 Billion in startup funding.
Platinum Sponsors
https://vanhack.com – quickly find Senior Developers from a global talent community of +400,000
https://zendesk.com – award-winning customer service software trusted by 200K+ customers. Make customers happy via text, mobile, phone, email, live chat, social media.
Gold Sponsors
https://duplocloud.com – DevOps-as-a-Service. Give your developers self-service with our no-code / low-code cloud infrastructure automation platform.
https://lendflow.com – embed lending into your products and improve customer Life Time Value by 2-5x while driving long-term loyalty and building a new revenue stream with little resources.
https://expensify.com – on-in-one app to track expenses, submit expense reports, pay bills, generate invoices, collect payments, track mileage, plan trips, and get the best corporate credit card.
https://later.com – all-in-one social marketing platform for the top social networks. Plan, analyze, and publish your content in a few clicks — so you can save time and grow your business.
https://amberflo.io – capture usage intelligence to inform roadmap development and enable Product-Led Growth. Intelligently test, deploy, and scale usage-based pricing plans.
https://www.westbridgecap.com – venture capital fund that has Investments of over US$ 5.6 billion in 120+ companies.
Silver Sponsors
https://supportlogic.com – SupportLogic unlocks insight from unstructured data in every customer interaction and shares actionable recommendations.
https://loom.com – record your screen and camera with one click. Share that content in an instant with a link.
https://maxio.com – subscription and revenue management platforms to enable SaaS companies to offer flexible pricing and packaging—without the financial headaches.
https://www.smythecpa.com – accounting, assurance, taxation, and business advisory services, Smythe to help organizations navigate their growth journey.
https://www.supportbench.com – personalized customer support software that increases brand equity and creates an effortless user experience.
https://creator.co – the No.1 Influencer Marketing Platform connecting content creators with awesome brands.
https://www.svb.com/canada – Global Banking, Venture Debt, and Forex Services for high-growth startups.
https://segev.ca – Business, Tech, Real Estate, and iGaming Law firm that works with the largest tech, gaming and development companies in the world.
https://www.idaireland.com – helps you expand into Europe by setting up operations in Ireland.