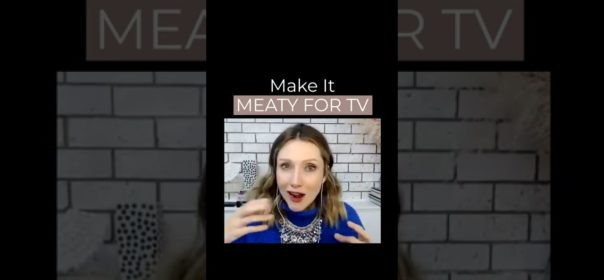 Make your Pitch Ideas Meaty for TV | Styling Advisory TV
Want to secure a lovely TV spot for your business? @RebecaLauMarsh (CHECK) recommends:
1. Adding more MEAT to your story; more than just an opinion piece
2. Including a beginning, middle and end for your segment
3. Adding additional guests to round out the story (more MEAT 🍗)
See you on the big screen!
#shorts #personalstylingbusiness #imageconsultingbusiness #colorconsultantbusiness #personalshopperbusiness #thestylingadvisory #stylingbusinesspodcast
******
✨ SIGN UP TO OUR STYLING ADVISORY COMMITTEE AND RECEIVE:⁣
⁣
✔Invitations to our monthly, LIVE business and marketing webinars⁣
✔Plus 50% OFF Virtual Styling Tool 'Shopshare'⁣
⁣
CLICK HERE: https://app.monstercampaigns.com/c/e7ba4edj8yzbicralr2w/
******
ABOUT US⁣
⁣
Our mission at The Styling Advisory is to connect image professionals from around the world with THE MOST EFFECTIVE marketing and business building tactics, whilst remaining unequivocally authentic and real.⁣
⁣
More about us here: ⬇️⁣
https://www.stylingadvisory.com.au/we…⁣
⁣
Ways We Can Work Together: 😊⁣
⁣
💡 FREE TRAININGS : Join our global community for free monthly masterclasses on how to build your styling business with strategy and heart https://bit.ly/3Bqv6Ir⁣
⁣
💡 COURSES: Learn about which program is right for your stage of business and marketing needs with a free Tea & Chat session with Sarah Cohen. Book here: https://bit.ly/3BixNvy⁣
⁣
⁣
WANT 100+ STYLIST-SPECIFIC SOCIAL MEDIA CAPTIONS?🤑🤑⁣
⁣
Customise these for your social media pages and get 1 YEAR worth of engaging, strategic and industry-specific content! ⁣
⁣
Click here to access: ⁣
https://www.stylingadvisory.com.au/product/stylist-social-media-captions/⁣
⁣
⁣
💗 Make sure you RATE, REVIEW & SUBSCRIBE to our show. 💗