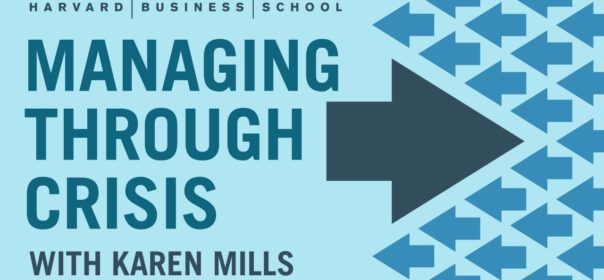 Managing Through Crisis: Let's Talk About Small Business
In the wake of COVID-19 some small businesses are closing their doors, maybe forever, but there's hope on the way in the form of the new relief package from Congress that potentially promises a brighter future. Professor Karen Mills, a former U.S. Small Business Administrator, took a quick break from actually helping to pass the bill through Congress to talk through how it can help, some of the challenges small businesses are facing during the COVID-19 pandemic and offer some advice.
01:32 – How important is small business overall in the American economic landscape?
02:31 – How well prepared were small businesses coming into the crisis?
04:16 – Are there similarities between the current crisis and the 2008 recession?
05:35 – What are some things in the newly approved stimulus bill that will give small business owners some encouragement?
07:04 – What would you suggest to small business owners in the services business? How do they bounce back?
09:20 – Can small businesses still market during this time? What should their priorities be?
11:36 – How can local banks support these businesses? What other kinds of organizations can help?
12:37 – Is this a good time to think about starting a small business? Are there opportunities that can be taken advantage of?
13:49 – Are there other things consumers or businesses can do to support local small businesses?