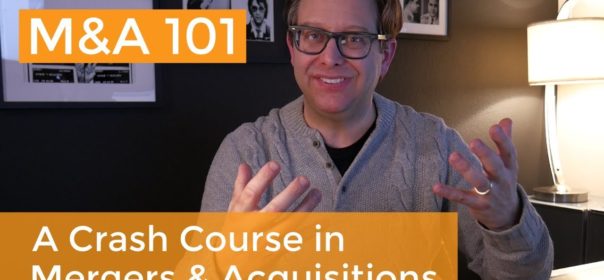 Mergers and Acquisitions Explained: A Crash Course on M&A
#mergersandacquisitions #corporatelaw #business
http://cenkuslaw.com
Mergers & Acquisitions (commonly referred to as M&A) is often considered a fast-paced, exciting niche of corporate law. And, it is. I love the work I do and my role in M&A deals. So, this video addresses a lot of common questions regarding M&A.
We'll take a look at what M&A is, types of deal structures, the key players, the motivations for performing a merger or acquisition, and what deals looks like at different levels of the market.
Here's a quick rundown in case you want to jump ahead:
0:44 – What is M&A generally
01:04 – Asset Sales, Stock Sales and Mergers
04:28 – Why do Sellers Sell a Business?
05:19 – Why do Buyers Buy a Business?
06:40 – Who's Involved in the M&A Process?
06:42 – Investment Brokers and Investment Bankers
09:23 – Corporate Lawyers
10:47 – Business Appraisers, Accountants & Consultants
So, take a look and let me know what you think!
_____________________________________________
For a deeper dive into and other legal issues vital to the success of your deals and your business, visit me at:
http://www.cenkuslaw.com
Just starting up? Check this out for my advice on startup success: http://www.thestartupshepherd.com.
You can also reach me at:
https://www.linkedin.com/in/brettcenkus
Tweets by bcenkus
http://www.cenkuslaw.com
http://www.cenkus.com
_______________________________________________
About me:
My 20+ years of experience in business finance, business law and entrepreneurship have led me to believe that numbers and logic are awesome tools, but understanding human nature and emotions is the first step to business success.
The Cenkus Law Firm provides services related to mergers & acquisitions, general business issues and startups, including founders' agreements and fundraising. I also consult with entrepreneurs and have invested my own capital as an angel investor.
From 2010-2013 I served as Chief Legal Counsel of a publicly-trade international oilfield services company. From 2001 to 2006 me and a partner founded and built Paragon Residential Mortgage. Paragon was sold to Bridge Investments in 2006.
I hold a Juris Doctorate from Harvard Law School and a Bachelor of Arts degree in Economics from Messiah College in Grantham, Pennsylvania.
Now, I live in Austin, TX with my wife and two kids. I enjoy reading, running, classic movies, great food and wine and some great American football.