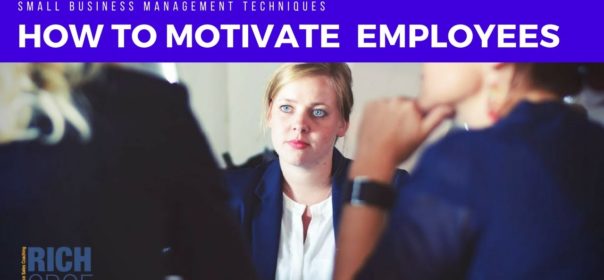 Must Know Tips for How to Motivate Employees – Small Business Management Techniques

If you are a leader, you have wondered how to motivate your employees. Employee motivation is a difficult problem that many managers and leaders struggle with. Most leaders and small business managers struggle with how to motivate employees and know that employee engagement will be inconsistent and most small business management techniques will fail. In this video, Master Sales Coach Rich Grof, explains what you need to know to get the best production out of any employee.
Join our channel – subscribe here https://www.youtube.com/user/richgroftv?sub_confirmation=1
If you have enjoyed our video, please like it and leave a comment about what other videos you may be interested in. Your help in creating great, relevant content is greatly appreciated.
OTHER LEADERSHIP VIDEOS
5 Types of Motivation for Salespeople – Leadership Techniques for Sales Managers

How to Beat Procrastination and Distraction – Leadership Sales Techniques for Sales Managers

How to Motivate a Salesperson – Basic Leadership Techniques for Sales Managers

MOTIVATIONAL VIDEOS
What Makes You Brilliant – Motivational Speech for Success in Business and Sales

Lessons From the Hot Tub – Motivational Speech for Success in Business and Sales

Reaching Your True Potential – Motivational Speech for Achieving Success in Sales and Business
https://www.youtube.com/watch?v=I4WvGBU9HGQ