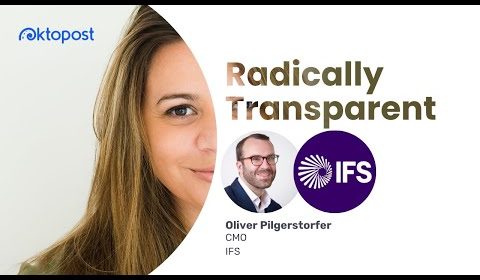 Oliver Pilgerstorfer on Scaling Sustainably
It's hard to do the same things over and over in marketing and expect massive growth.
Join Oliver Pilgerstorfer, CMO of IFS, on the Radically Transparent podcast as he discloses the growth mindset required to impact business in a meaningful way.
Oliver spends a lot of time considering if the work they are doing today can scale tomorrow, and walks through some of the ways he approaches strategy from a macro level in order to understand all the elements crucial to their success.
As a billion-dollar revenue business with over 5000 employees, keeping pace with this growth can be a challenge. Oliver even talks through a few different initiatives, including employee advocacy, that are being used to support a rapidly scaling organization.
Hot Topics of this Episode:
– Data is important, but only if you use it—learn how to lean on your data to uncover whether or not it's accurate before making effective decisions
– Why having clarity on your goals gives you the ability to play to your brands strengths and grow YoY
– How IFS is using employee advocacy to tell an authentic story in a meaningful way
► Subscribe to Our Channel Here: https://www.youtube.com/c/oktopost
Oktopost is a B2B social engagement suite that includes social media management, employee advocacy, social listening, social advertising, and comprehensive reporting. Built specifically for B2B organizations, we arm companies such as ACI Worldwide, Snowflake, and Fujitsu with the tools to fully manage and optimize social media to drive their businesses forward in a scalable and measurable way.
—-
Follow Us Here:
Website: https://www.oktopost.com/
LinkedIn: https://www.linkedin.com/company/oktopost
Spotify: https://open.spotify.com/show/5QLGfJTG8SLxumT5aFG9aG
Apple Podcasts: https://podcasts.apple.com/ca/podcast/radically-transparent/id1494931430