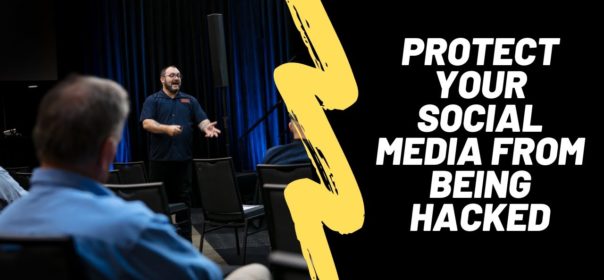 Protect your social media from being hacked with Dante St James
Christmas is the time of year when hackers are most active. Their #1 target this year is your email and Facebook accounts.
2:35 – What we will cover
3:25 – About Dante St James
4:15 – The Damage caused by hacked social media accounts
4:20 – Loss of access to your social media
8:07 – Loss of reputation to your business
10:17 – Loss of momentum in your business
11:47 – Case Studies of some affected businesses
15:35 – How hackers get into your social media
20:26 – Poor password choices
21:56 – Have you been affected by a previous data breach?
23:10 – The role of multi-factor authentication
25:30 – How to secure yourself
25:40 – Securing your email
30:45 – Secure your social media accounts
34:00 – Checking on who else has access
39:27 – Securing your team
42:50 – A checklist for onboarding new staff
45:26 – Key takeaways
51:40 – Where to get help in Australia
Each Christmas and New Year period as university students go on holidays, workers take a well-earned break and the feeling of freedom from care takes over the developed world, the more nefarious members of our community come to life. Just like the rate of home break-ins goes through a dramatic spike at this time of the year, so does the rate of low-level cybercrime. This year, it's expected that we'll see a big increase in hacked email accounts, Facebook accounts, Instagram business accounts and LinkedIn profiles.
This past year, Dante St James has personally had to deal with over 100 business Facebook accounts that have been hacked or compromised, costing the small business community he works with, in excess of $500,000 in lost revenue opportunities a potential new clientele. There is a specific and highly effective attack vector used by hackers on Facebook and other social media accounts that are based around getting access to your email account.
In this highly practical and important session you will learn;
– The two things that you must do to protect your Facebook account from being hacked immediately
– The simple things that hackers do to gain access to your email account
– How to secure other social media platforms like LinkedIn, Instagram, -GoogleMyBusiness and TikTok
– How to continue operating a business on Facebook & Instagram when you've lost access to your ads account due to malicious access
This workshop is brought to you by Business Station and AusIndustry under the ASBAS Digital Solutions Program
ABOUT THE PRESENTER
Your host is Dante St James, one of Australia's most credentialed digital trainers, and a business ambassador for the 2021 Australian Census with the Australian Bureau of Statistics (ABS).
Dante holds the following qualifications and certifications:
Bachelor & Master of Business Information Systems (UNSW) ITIL Foundation Certificate in IT Service Management Foundational Certificate, Diploma & Postgraduate Diploma in Professional Digital Marketing (Chartered Institute of Marketing) Diploma of Digital Media Technologies (TAFE NSW ICT50915), Website Development (TAFE NSW ICT50615) & Information Technology (TAFE NSW ICT50115) Certificate IV in Digital Media Technologies (TAFE NSW ICT40815) & Web-Based Technologies (TAFE NSW ICT40315) Google & Infoxchange Digital Springboard Trainer Facebook Blueprint Lead Trainer (AU/NZ), Digital Marketing Associate, Media Planning, Media Buying, Creative Strategy & Marketing Science Professional certifications Dante is professionally associated with the Australian Marketing Institute, Chartered Institute of Marketing (UK), Australian Computer Society, Chamber of Commerce NT, Tourism Top End, the Australian Institute of Office Professionals, the ICT Industry Association of the Northern Territory, Territory Proud, Darwin Pride Festival, Skål International Darwin and .au Domain Administration. Dante is an approved presenter of workshops for the Australian Small Business Advisory Services (ASBAS) Digital Solutions program, Head of Digital at Treeti Business Consulting in Darwin, a Lead Trainer with Facebook Australia & New Zealand and the Founder of Clickstarter, a regional Australian digital marketing agency.
You can find out more about Dante at https://dantestjames.com/