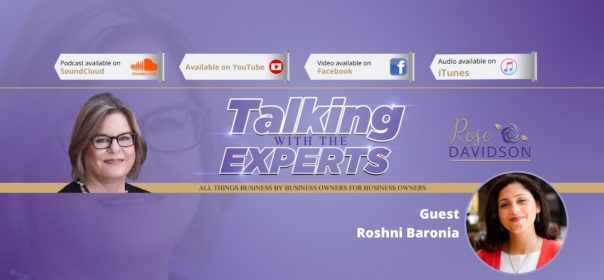 Roshni Baronia – Being Strategic Yet Authentic With Selling
As the name suggests, my guests, experts in their field, and I dive deeply into topics relevant to businesses large or small.
It could be SEO or marketing. HR management or social media management.
'Talking with the Experts' podcast series started in July 2020 because I love helping people.
It's about all things business by business owners for business owners.
A lot of entrepreneurs find it difficult to have a well laid out strategy for growing their business in a predictable manner especially when they are doing personal selling and have service-based businesses.
What helps at this point is to have a strategic plan which shows you your focus areas, the things one should be working on and more importantly your sales process – how you are bringing in the clients in your business.
The challenge lies implementation because if the process does not feel authentic you won't be able to implement it.
Roshni Baronia is founder of boutique firm RB Consulting which serves women-led small and medium-sized businesses with sales and strategic planning advisory. She is a certified Strategic Sales expert and author of the Ebook 'How to Revolutionize your Sales Mindset', curator of 'Authentic Selling Style' test and creator of Solopreneur Sales Planner. She is a TEDx speaker and Podcast host of Ace the Sales show.
Connect with Roshni:
Website:
https://www.roshnibaronia.com/
Instagram:
https://www.instagram.com/roshni_baronia
LinkedIn:
https://www.linkedin.com/in/roshnibaronia
You can connect with/follow me:
Email:
contact@rose-davidson.com
Website:
https://rose-davidson.com
Facebook:
https://www.facebook.com/hybridspeakerexpert/
Facebook Group: [Admin & HR Basics for Small Business]
https://www.facebook.com/groups/doesbusinessbasics/
Facebook Group: [Talking with the Experts]
https://www.facebook.com/groups/rosedavidsontalkingwiththeexperts
Make a booking: https://bit.ly/3kAEDTF
Instagram:
https://www.instagram.com/rosedavidson_speakersupport/
LinkedIn:
https://www.linkedin.com/in/rose-davidson/
YouTube:
https://www.youtube.com/channel/UCJn8KbVcDrbDokFYFGWHtIw
SoundCloud:
https://soundcloud.com/rose-davidson-76913781
iTunes
https://podcasts.apple.com/ca/podcast/rose-davidson/id1534682121
Pinterest:

#business, #entrepreneur, #powerpoint, #presentation, #rosedavidson, #slides, #smallbusiness, #speaker, #influencer, #video, #workshop, #thoughtleader #podcast #vodcast