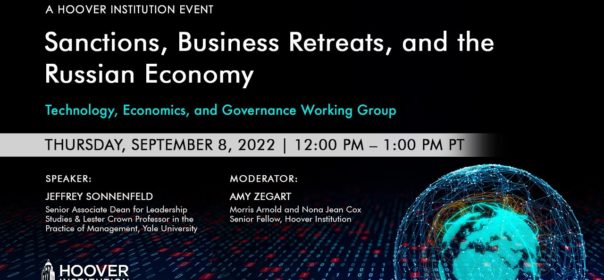 Sanctions, Business Retreats, and the Russian Economy
The Hoover Institution hosted Sanctions, Business Retreats, and the Russian Economy on Thursday, September 8th from 12:00 – 1:00pm PT. Watch the discussion with Jeffrey Sonnenfeld, Senior Associate Dean for Leadership Studies and Lester Crown Professor in the Practice of Management at Yale University, about the economic dimensions of Putin's invasion of Ukraine and the consequences for Russia.
Since the war began approximately six months ago, Professor Sonnenfeld and a team of experts and researchers have been maintaining a database of company responses to Russia and analyzing the impact of sanctions and business retreats on the Russian economy. Their work challenges some of the common misconceptions about the resilience of Russia's economy, especially Putin's ability to leverage energy policy to put pressure on his adversaries and fund the war effort. Professor Sonnenfeld's data-driven research shows that sustained economic pressure is working. If Western countries continue their unified approach to sanctions, there are few options for the Kremlin to revitalize the Russian economy.
ABOUT THE SPEAKER
Jeffrey Sonnenfeld served as full tenured professor at Emory's Goizueta Business School for a decade and a professor at the Harvard Business School for a decade, and is currently the senior associate dean of leadership programs as well as the Lester Crown Professor in the Practice of Management for the Yale School of Management, as well as founder and president of the Chief Executive Leadership Institute, a nonprofit educational and research institute focused on CEO leadership and corporate governance.
Professor Sonnenfeld's related research has been published in 100 scholarly articles which appeared in the leading academic journals in management such as Administrative Sciences Quarterly, the Academy of Management Journal, the Academy of Management Review, the Journal of Organizational Behavior, Social Forces, Human Relations, and Human Resource Management. He has also authored eight books, including The Hero's Farewell, an award-winning study of CEO succession, and another best seller, Firing Back, a study on leadership resilience in the face of adversity.
Professor Sonnenfeld earned the 2018 Ellis Island award from the US Ellis Island Foundation. He was Harvard's first John Whitehead Faculty Fellow and won outstanding educator awards at Yale, Emory and the American Society for Training and Development. His work is regularly cited by the general media in such outlets as: BusinessWeek, Fortune, Forbes, the Wall Street Journal, the New York Times, Newsweek, Time, the Economist, the Financial Times, the Washington Post, CBS (60 Minutes), NBC (The Today Show), ABC (Nightline, Good Morning America), CNN, and Fox News, as well as PBS, where he is a regular commentator for FORTUNE and CNBC. BusinessWeek listed Sonnenfeld as one of the world's 10 most influential business school professors and Directorship magazine has listed him among the 100 most influential figures in corporate governance. He is the first academician to have rung the opening bells of both the New York Stock Exchange and the Nasdaq Stock Exchange.