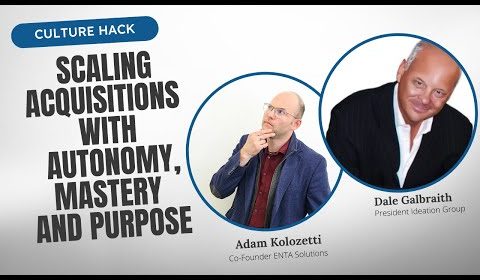 Scaling a Business with Autonomy, Mastery, Purpose | The Culture Hack | Calgary Business
Dale Galbraith understands how to scale a business. In fact, as President of the Ideation Group Dale works hard to find the right businesses to acquire and to scale up via their Autonomy, Mastery and Purpose philosophy.
Want to know how they do it? See below.
Click the stamps below to enjoy our discussion and insights on:
00:00 Intro
00:11 Welcome
00:24 About Ideation Group
02:09 Autonomy, Mastery, Purpose
02:23 Acquiring Businesses
03:34 Storytellers
04:06 The Kiss of Death
05:00 Crafting a New Story
09:55 Ideation's new businesses
Guest Introduction and contact links:
A bit about our Guest
Dale Galbraith is the President of Ideation Group which seeks out new companies that our ready for growth. Ideation group is the catalyst for accelerated success.
You can connect with him on LinkedIn at https://www.linkedin.com/in/dale-galbraith-09950427/
To learn more about Ideation Group's newest scale up head to https://zamiipro.com/
#scaleup #entrepreneur #mastery #purpose #autonomy #calgarybusiness #acquisition
|
Culture Hack is sponsored by ENTA Solutions.
|
To be our Next Guest on The Culture Hack at YYC Calgary Business please follow this link https://form.123formbuilder.com/6233829/form
|
About Adam and Culture Hack
Adam's alternate title at ENTA Solutions is The Culture Ninja. His passion is helping small businesses excel by creating an engaging company culture. Adam's goal is to help your team achieve clarity of purpose and wholeheartedly commit to your company's values and vision.
Connect with Adam on LinkedIn https://www.linkedin.com/in/adam-kolozetti
Culture Hack is Adam's new show, exploring the impact that company culture has on employee engagement. Adam is talking with business owners, founders, and CEOs in Calgary to get their take on company culture and employee engagement. Get leadership insights from passionate people that have a vision for their business and the drive to reach their goals.
As an interviewer, Adam is the ideal choice to share your knowledge and experience in leading a business to success. Promote your brand and story on Culture Hack and:
Reach a global audience via the yyccalgarybusiness.ca website and the MegaPixxMedia YouTube channel.
Gain additional viewers of your Culture Hack episodes through free publication on YYC Business social media platforms.
Download your Culture Hack episode to your personal and company social media pages.
Website: https://yyccalgarybusiness.ca/
YouTube: https://www.youtube.com/channel/UCySVptRPgzJJa9eBIWDxogQ
Facebook: https://www.facebook.com/calgarysbusiness/
LinkedIn: https://www.linkedin.com/company/calgarysbusiness/
Instagram: @yyccalgarybusiness
TikTok: @yycbusiness
Filmed and edited by ENTA Solutions https://www.entasolutions.org
The views and opinions expressed in the video are those of the authors and do not necessarily reflect the official policy or position of MegaPixxMedia Ltd and their Affiliates Any content provided by our bloggers or authors are of their opinion and are not intended to malign any religion, ethnic group, club, organization, company, individual or anyone or anything.
This video is for entertainment only.